Yarram Kayaks
No matter if you are after fishing or recreational kayaks in Yarram you have come to the right place. We can deliver to Yarram 3971 from just $103 per single kayak or $170 per tandem kayak from our Melbourne Fishing Canoes Factory Outlet. Each kayak is manufactured under strict quality supervision. We also treat our kayaks with UV protectant to maintain the colours and strength for a long time. Our mission is to help as many people as we can to get out on the water with our kayaks that offer good value. We recommend you to read reviews from our customers before you purchase so you know you are not buying any cheap kayak. Aferpay and Zippay accepted.
Read More
Recent Reviews:
Summary I recently purchased a NextGen 11 from Kayaks2Fish. I'm new to the kayak fishing experience, so this over-the-net, sight-unseen purchase was something of a risk. As it turned out, my worries were mostly unfounded and I'm very happy with my new kayak. What follows is a bit more detail on my experience to date, including the inevitable niggles. I hope you find this useful. Unboxing/First Impressions. Pickup. No issues. The guys at the warehouse were aware of the order and quickly loaded the kayak onto my trailer. Once home, unwrapping the 3 layers of protective wrap revealed a kayak with excellent quality, no dents or scratches from transit and a good level of finish. At this point it's worth noting that the kayak comes with no documentation whatsoever. As a newcomer to kayak fishing - and to this brand of kayak - I expected at least a downloadable .pdf to provide some information. Disappointing. By way of example, assembly and installation of the pedal drive required a google search, which thankfully delivered a K2F YouTube video explaining the process. At the very least, an email pointing me to this resource would have avoided some early panic! The kayak includes lots of tracks, eyelets, cleats etc, but again the lack of a manual describing the purpose of each fitting, hole, indentation etc. negatively affects the first impression. I'm sure the kayak and I will work out what's-what as we go (but we really shouldn't have to). Moving the Beast. This is not a small item and storage and handling is something to be seriously considered. The NG11 can be lifted and carried by one person for a short distance, but for longer, safer transport for both the kayak and the user, then a kayak trolley is going to be a necessary accessory (but see note of caution below). On the Water. The kayak is surprisingly and happily stable, dry and easy to handle. Tracking perhaps isn't as straight as might be expected, but this is a minor irritation rather than 'a problem'. Speed of the pedal drive system is excellent for trolling (approx. 2-3kmh), effortless and sustainable indefinitely. 'Transit speed', i.e. when pedalling to/from a location, is a sustainable 5-6kmh and covers distance admirably. Paddling (rather than pedalling) is fine using the included paddle, although I admit my experience is limited to short periods of use when approaching/departing shallow water. Seat. Really good, keeps your backside out of any water and is nicely adjustable in terms of seat distance from the pedals and the angle of the seat back. K2F Support. Hmmm. A bit fifty-fifty. A couple of examples. My kayak came with a couple of items in the box that do not appear to have an obvious role. A messaging exchange with K2F (and supporting photo) yielded a promise to check and get back to me. Ultimately, this information was never forthcoming. As I mentioned, a trolley is going to be necessary to move the beast around. It's worth noting that K2F will sell you their (very popular) scupper hole trolley, but if you use it, you will void the warranty on the kayak! While no doubt perfectly legal, the ethics of selling you something that might have an adverse impact on the integrity of your new kayak AND your warranty isn't ideal. - Steve B
Looks great, sits well in the water, light weight and easy to manoeuvre in and out of the water. Fast delivery. - Jo Bryant
Highly recommend ! I was looking at two different kayaks and was told the osprey was all I needed I don't fish. Happy with the honestly but most of all loved the kayak and quality of the gear. The live chat part is a major plus on the website. Get out on the water you won't regret it. - Trent Nichols
We purchased 2x kayaks last year ! Very pleased with our purchase we want to purchase 2 more kayaks 4 sets of wheels and 4 anchors !Great product 10/10 - Zoe Weston
Great store, they offer plenty of support even after you've made your purchase. Prices are great. Kept us informed of our delivery ETA. Will continue to purchase from here. - Elissa B.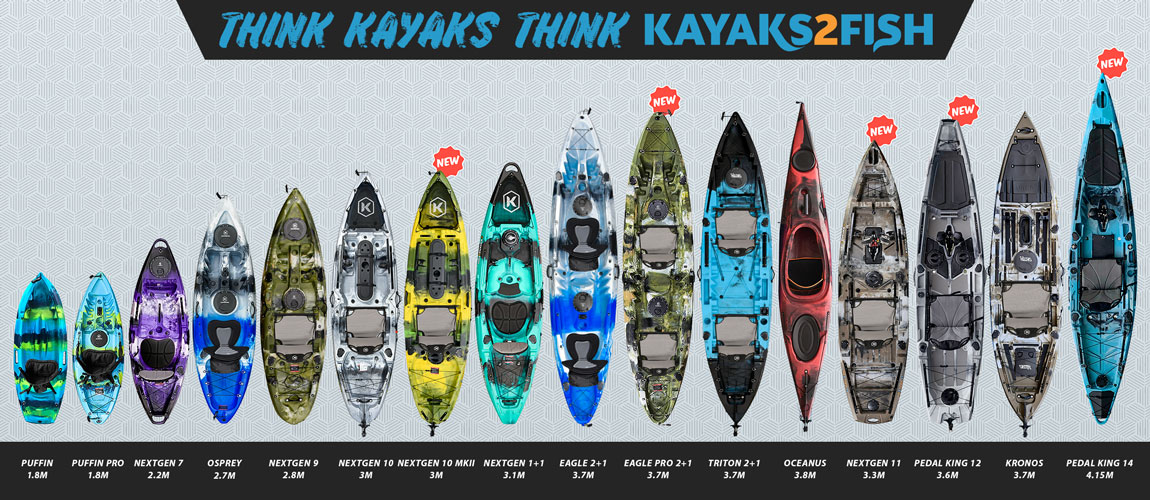 Feature Comparison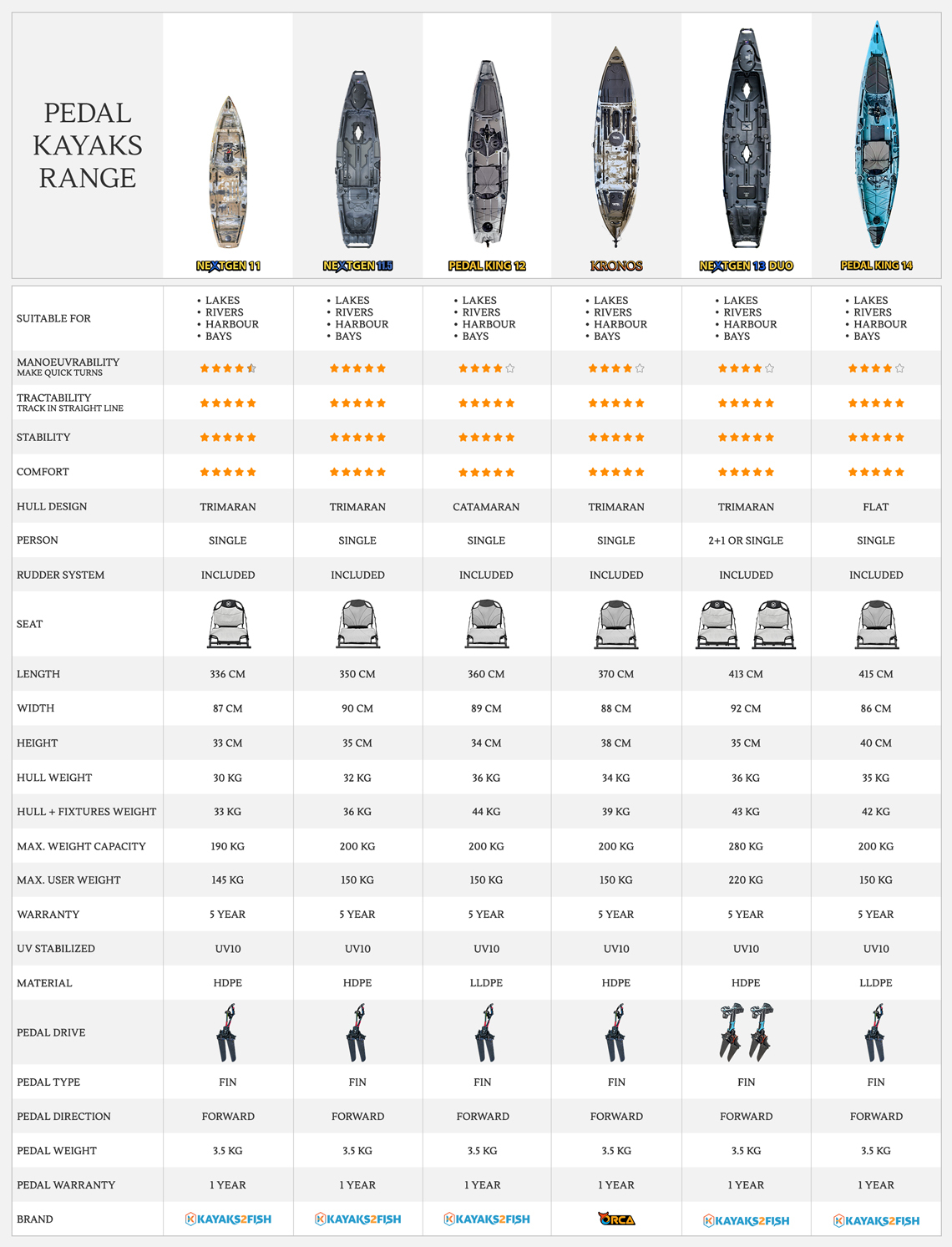 Feature Comparison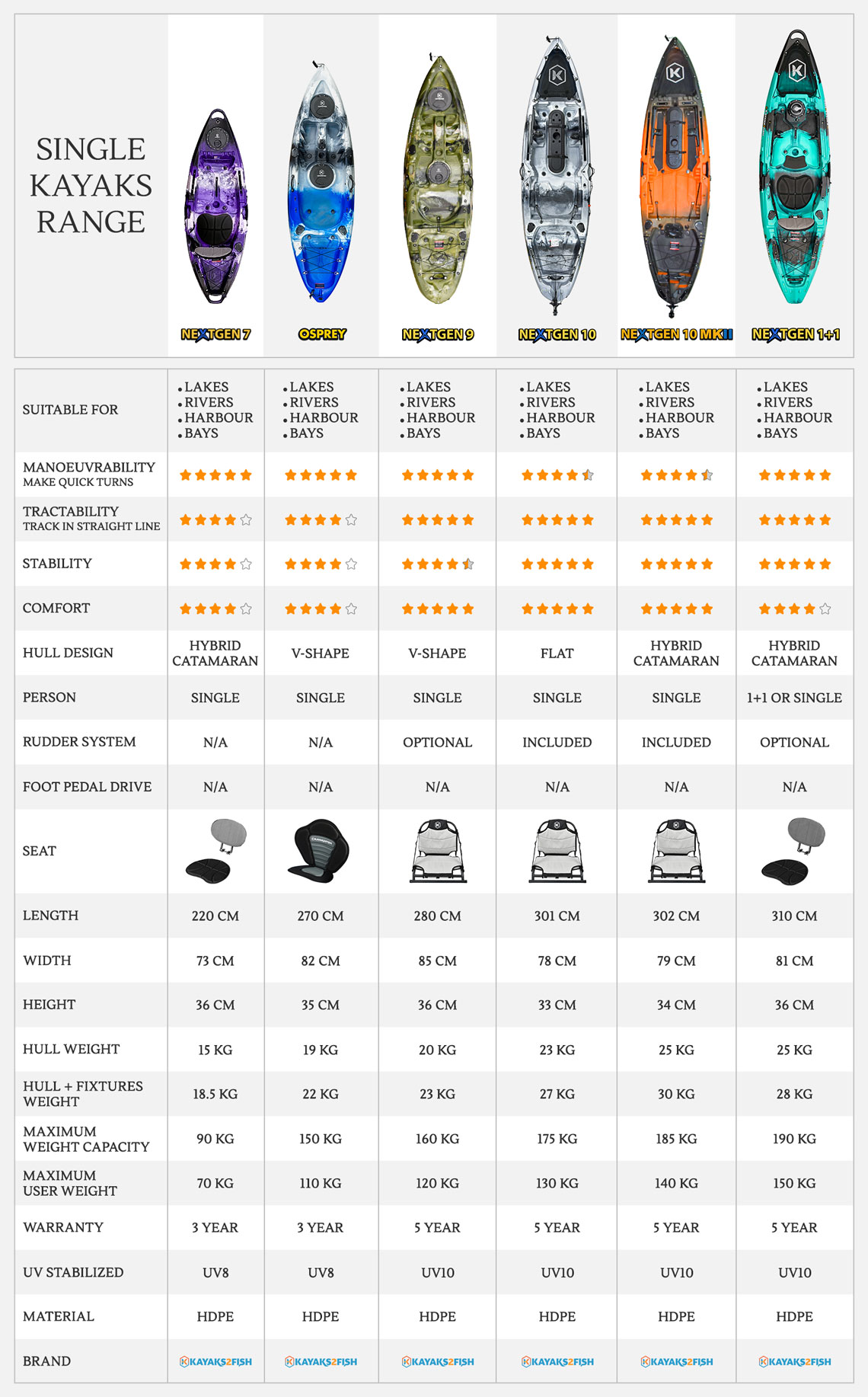 Feature Comparison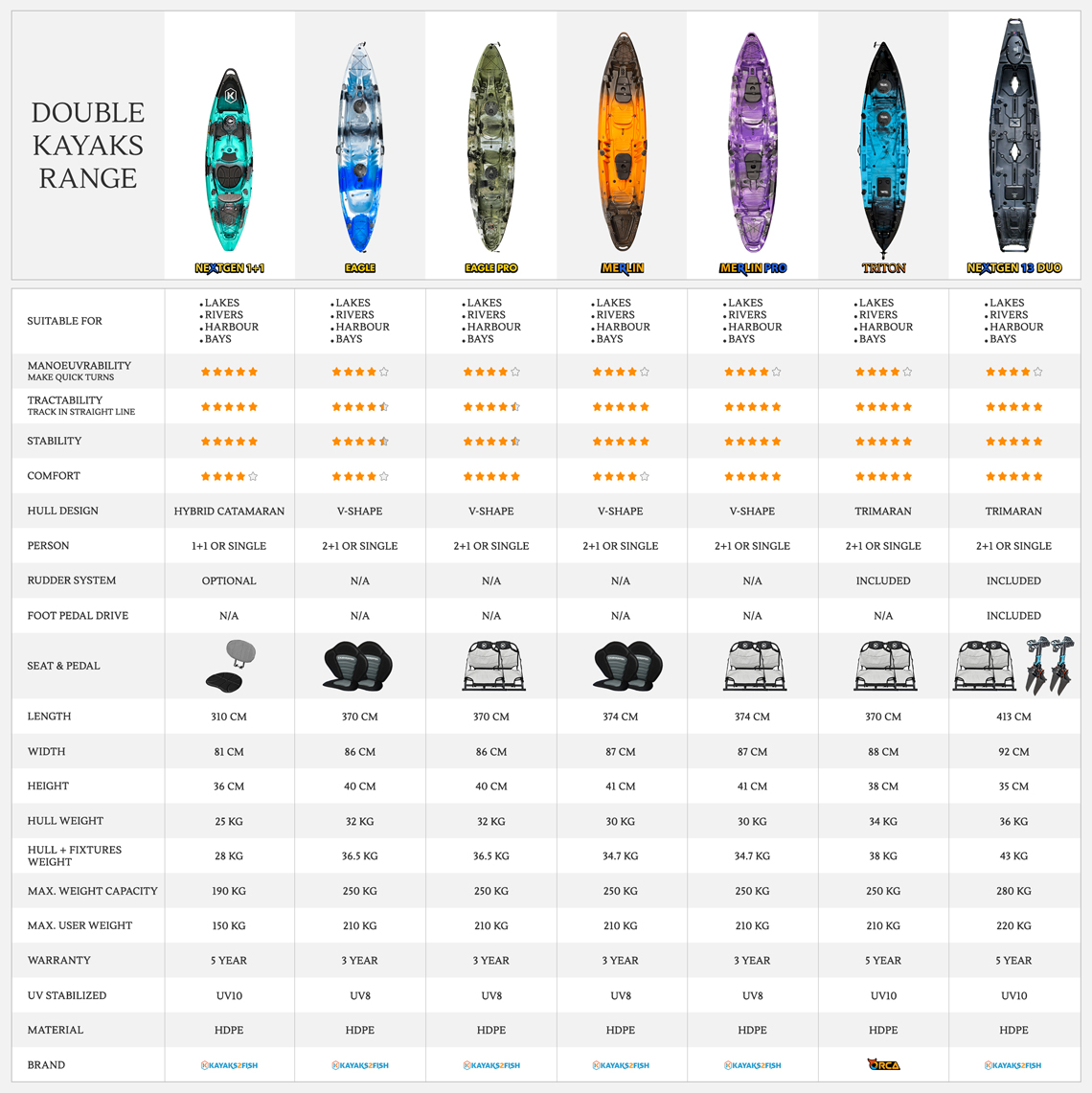 Feature Comparison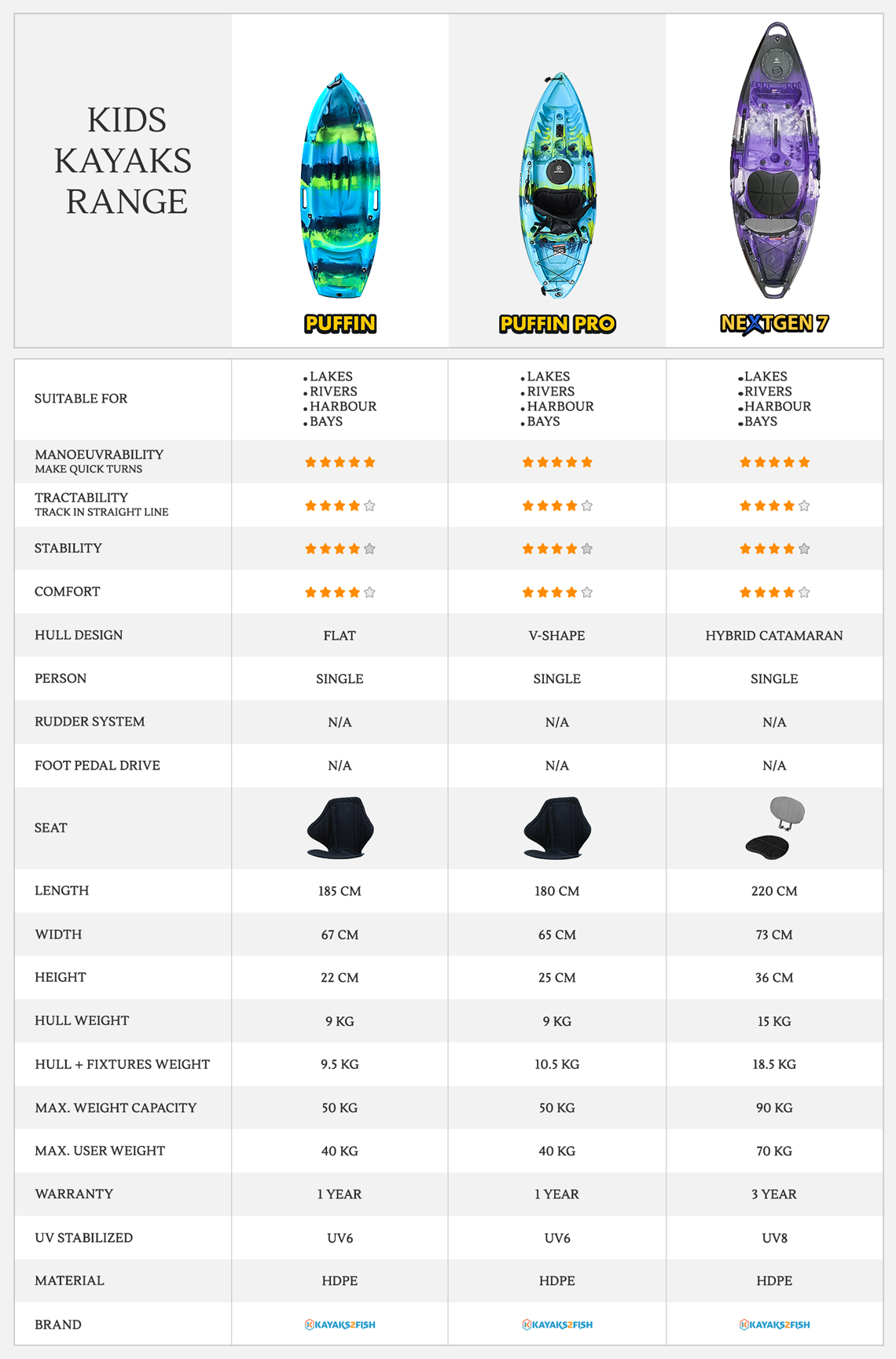 Customer Photos