Melrose 7310 Kayaks
Looking to buy kayaks in Melrose? Check out our range of kayaks. We can deliver (for an extra cost) to Melrose 7310 from our Melbourne Kayaks Outlet. Our kayaks are made with HDPE plastic imported from the UK and manufactured to meet strict Australian standards. Each kayak is treated for UV protection to make the colours last a long time. Our mission is to help as many people as we can to get out on the water with our kayaks that offer good value. For your piece of mind before you purchase please read reviews from our past customers, you can find hundereds of them on Facebook and Google. We also accept Afterpay and Zippay.
Read More
Recent Reviews:
Have just received my very first Kayak that I can call my very own. I can not rave about Kayaks2Fish enough, reasonable price, information and accessories are fantastic and easy to understand. This was definitely the best pick for me, and would recommend to anyone that will listen!!Signed,The one who is currently at the envy of all my Kayaking friends and family!! - Teegs
We purchased two Nextgen 9 kayaks in October last year. The price was competitive and the kayaks arrived when expected. The staff at the Sydney (Wetherill Park) warehouse were pleasant and helpful for the pick-up. The kayaks have performed well so far - easy to get in and out, stable, easy to steer. The elevated seat with this model is comfortable and keeps you dry. We have been stacking both on our roof rack and this works well but you definitely need two people to do this. Worth watching a few videos on how to secure a kayak before you pick them up. Too early to comment on durability but certainly no concerns so far. - Mary
The Kayak operator is very kind to recommend me the fit for purpose Kayak package (I am a beginner), instead of paying for expensive but beyond what I need. The kayak is definitely value for money considering its quality. We are having good fun. They have several stores across Australia which is very handy, because sometimes I can pick up stuff very quickly when in need. If you are beginners, I do recommend researching YouTube videos about how to load/unload Kayak in general, regardless which brand you buy. When you buy accessories, such as covers, they will specify what cover fits which of their Kayaks. The Kayak I got has been in Lakes, Rivers, Creeks and it is great fun! - Jia Ji C.
I've had my nextgen 11 for a couple of months now, and overall I'm reasonably happy with it, some positives are ,,,,,it tracks well and is very stable,so i can easily stand up in it (I'm close to 100kgs) and there is ample storage room behind the seat,and up front,and the seat is very comfortable, some negatives are,The hatch is noisy to screw in and out,not what you want when your in the zone and want to changes lures etc. A simple 180 degree latch would be betterThe hatch leaks like a sieve, the addition of an O ring would help a lot,The black "box" that holds the drive mechanism also takes in a bit of water, not a major problem , For me the steering arm is just a bit too far forward, I'm average height with average arm length and It's just a bit of a stretch to reach it,even with the seat fully forward, I'd prefer it to be moved back a couple of inches, again its not a major problem , and the turning circle could be better, it also seems to turn one way better than the other, which I'm sure would be just a simple adjustment here and there,For the price ,I do recommend it, (much cheaper than a hobie) I give it an 8/10Tight lines - Andy
I'm very pleased with my purchase of 2 next gen 9 kayaks. Great Quality and delivery was quick. Thank you - Geoff Burnett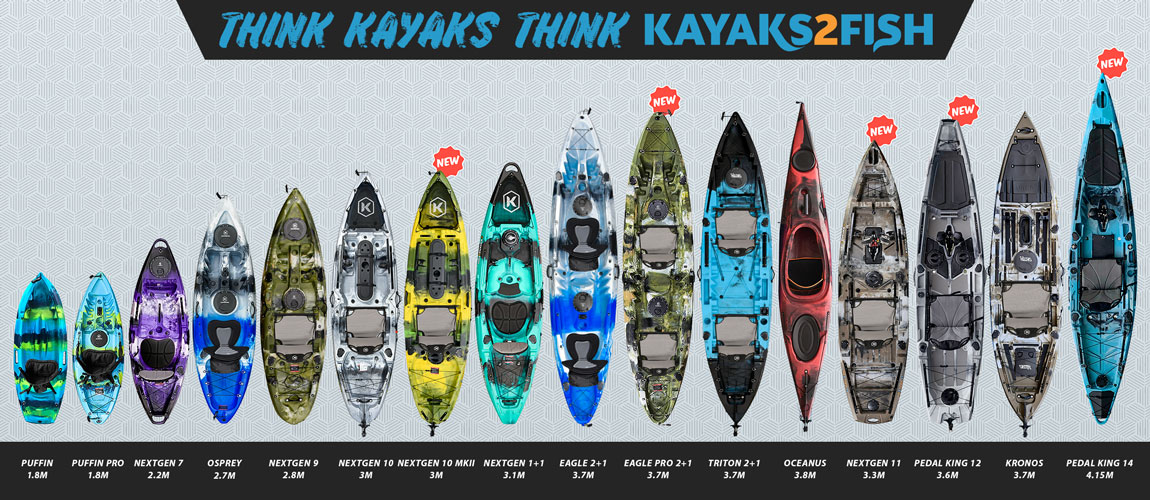 Feature Comparison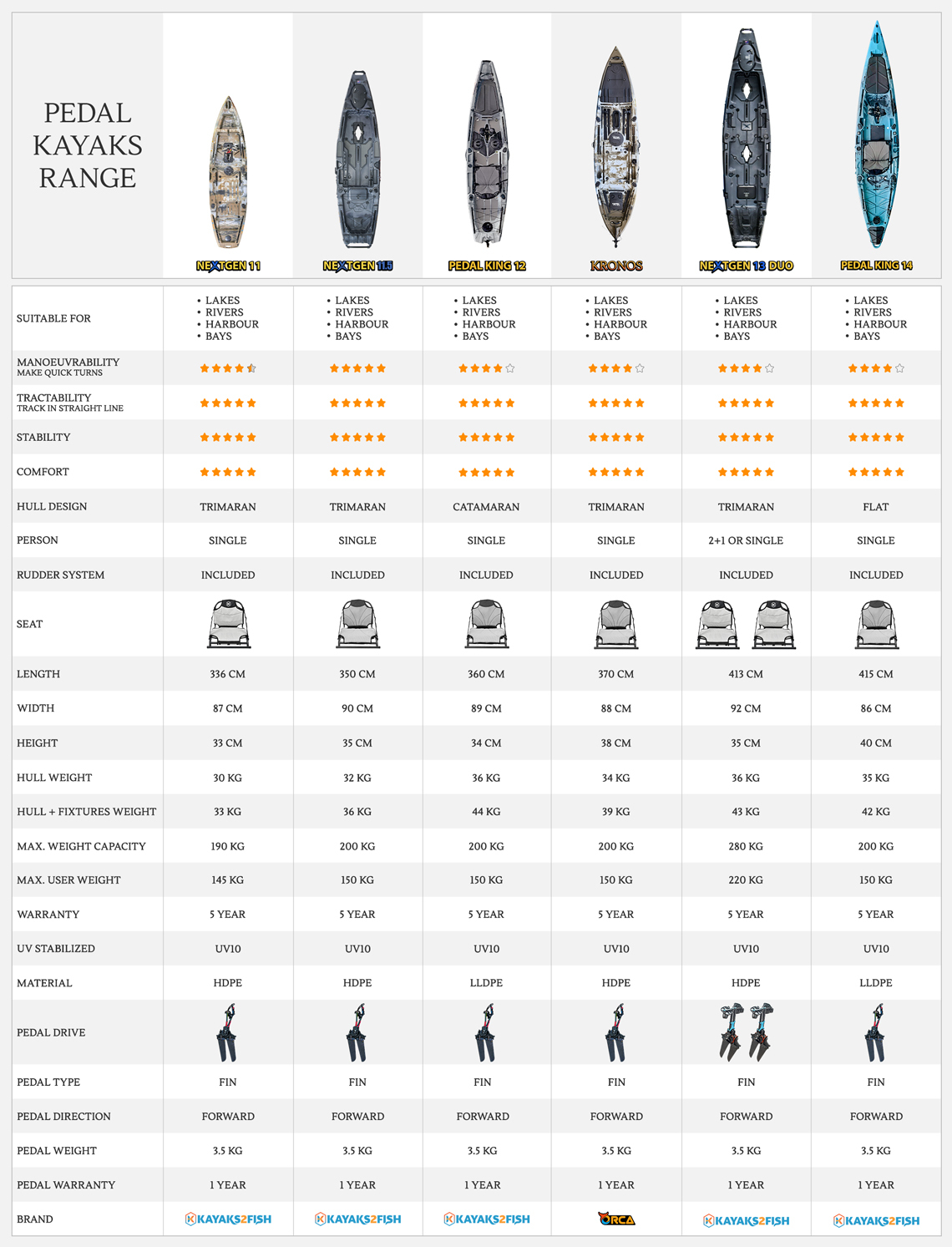 Feature Comparison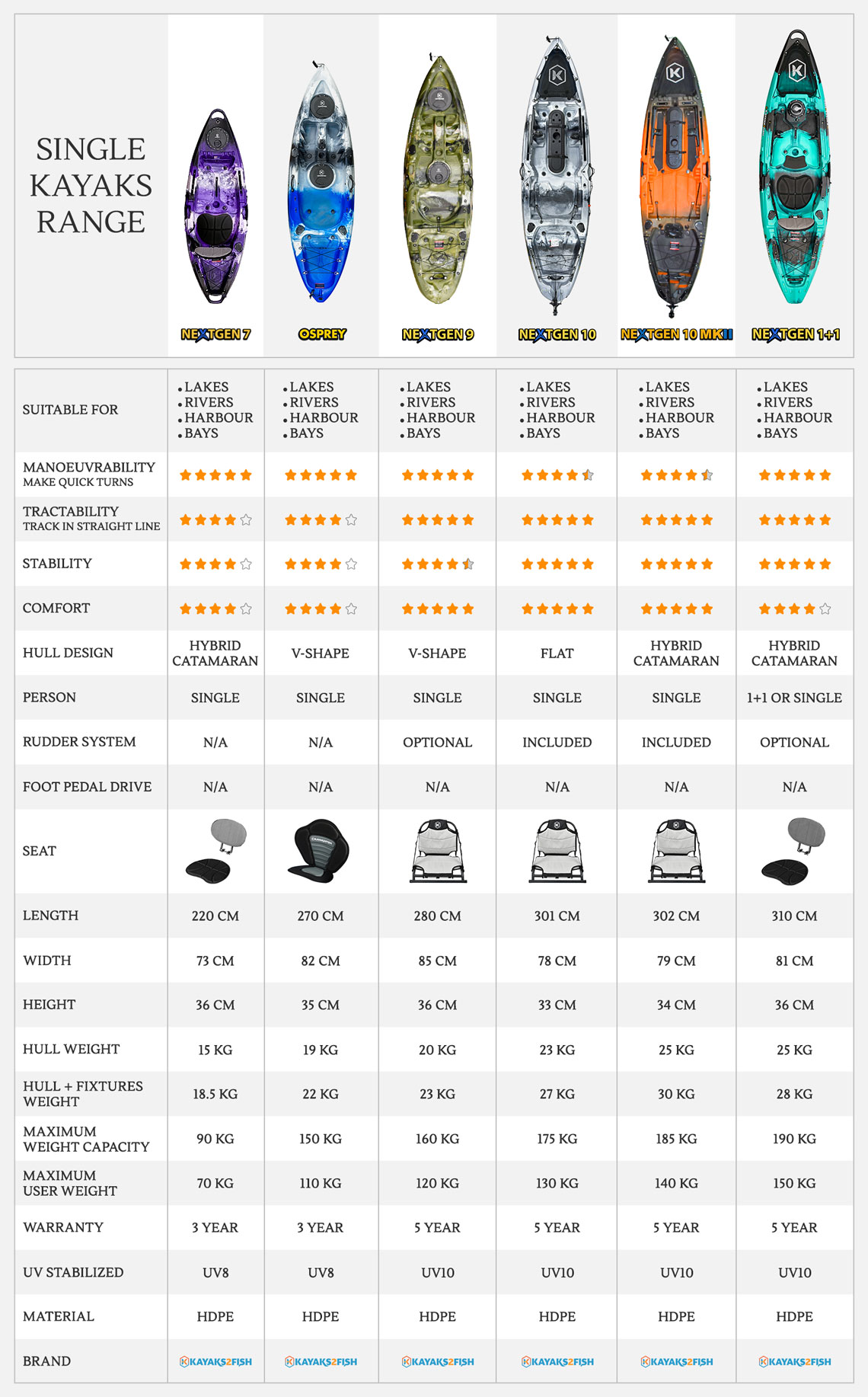 Feature Comparison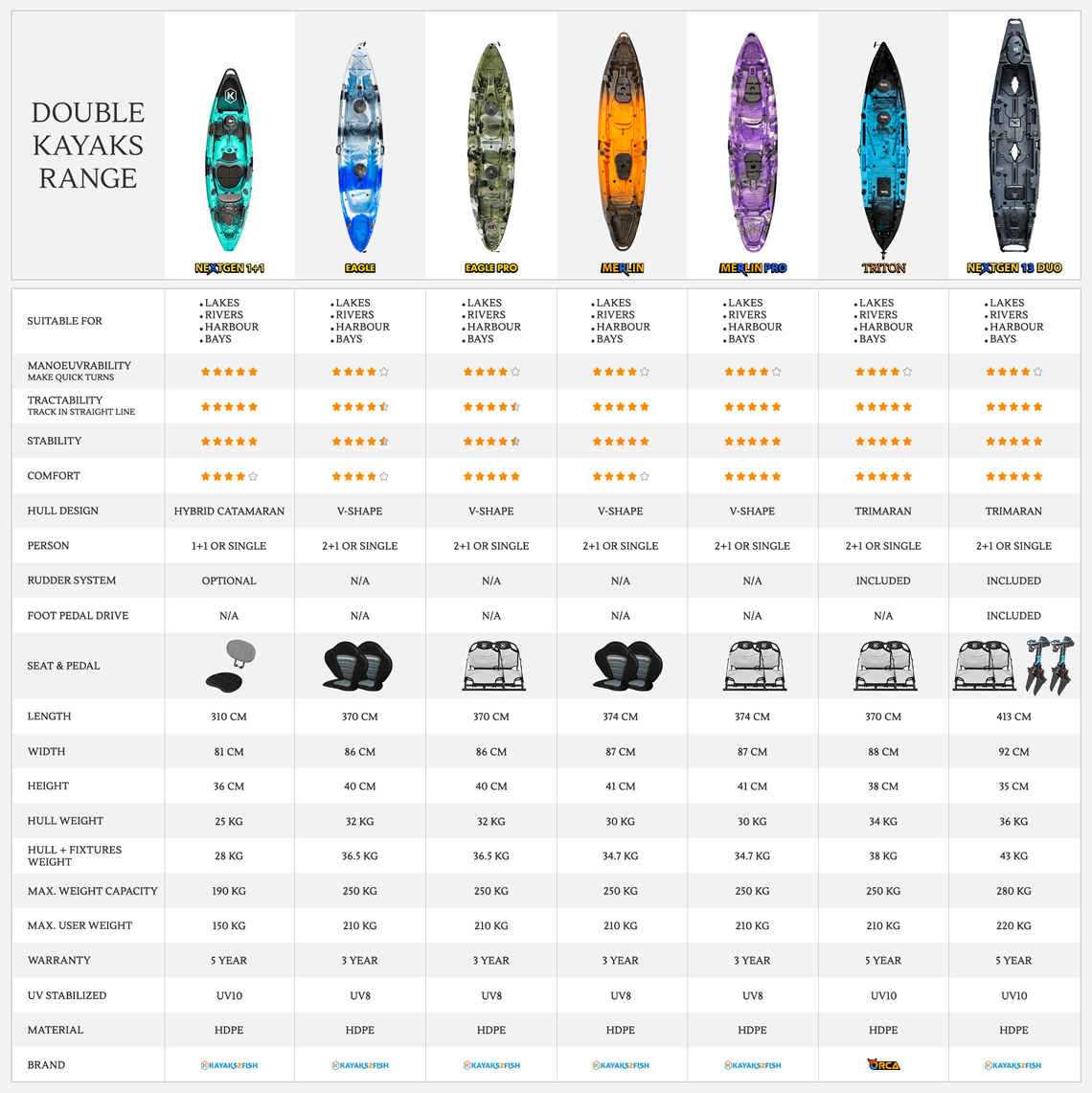 Feature Comparison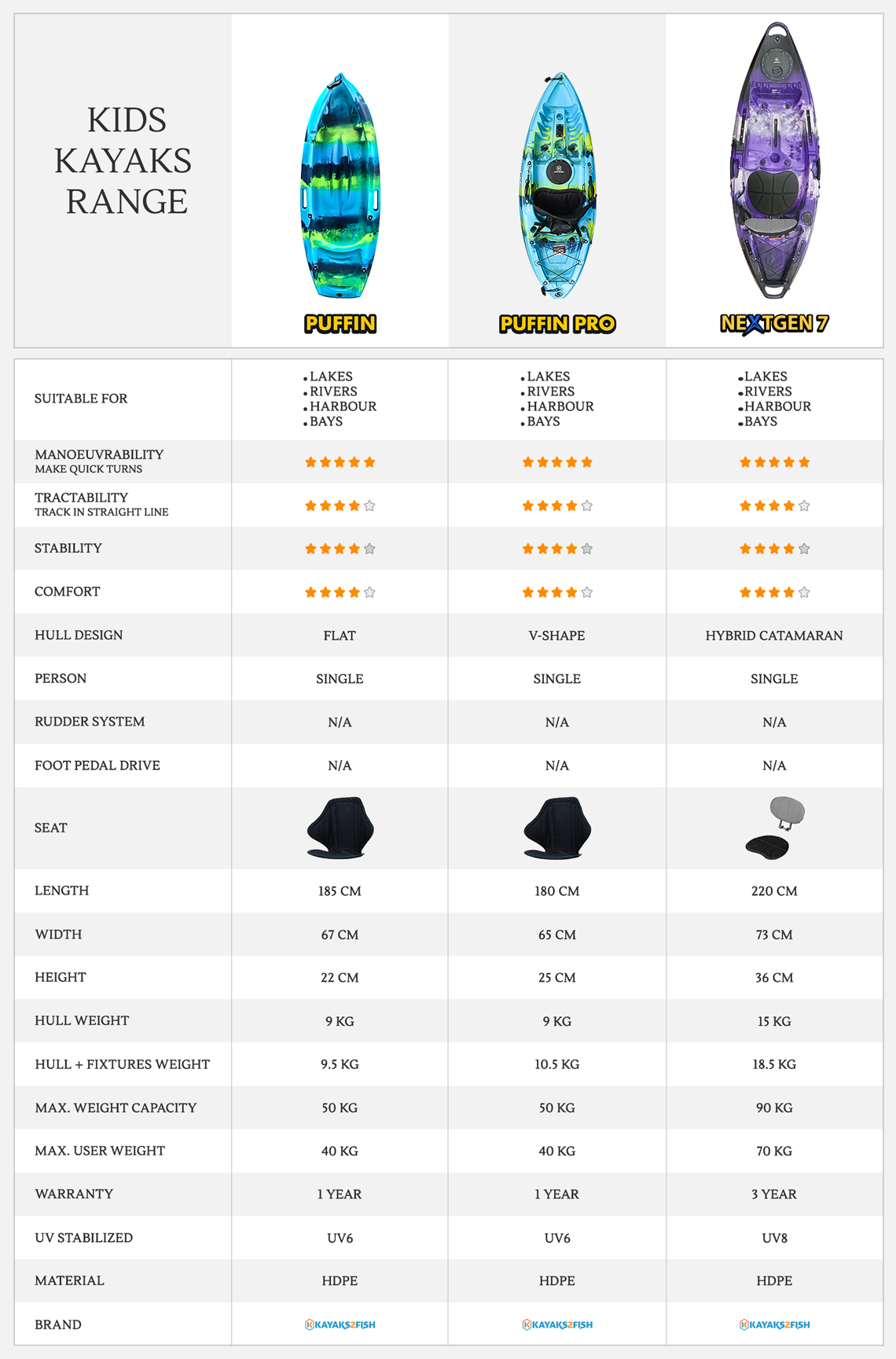 Customer Photos