Evans Landing Kayaks
Are you looking for kayaks in Evans Landing? Then no look further. We can deliver (for an extra cost) to Evans Landing 4874 from our Brisbane Kayaks Factory Store. Just because our prices are affordable doesn't mean we offer any less quality then big brands. We use plastic imported from UK and treat each kayak with UV protectant. For 10 years Kayaks2Fish has focused on one thing — bringing the products that are as good as if not better than the big brand stores at a price that doesn't break the bank. Our prices are affordable but it doesn't mean we compromise on quality. Read hunderds of reviews from customer online before you decide to purchase for your peace of mind. We accept both Zippay and Afterpay.
Read More
Recent Reviews:
Bought 2 for Christmas and we love them!! Extremely stable to stand up in and great size and easy to move around. Kayaks to fish have thought of most thing in the terms of fishing! And for the price when comparing to other kayaks on the market there's a lot of extras included. - Rochelle L.
I was really keen that I got my kayak, but due to the pandemic shipping took a couple months, but it has finally arrived at my door step, looks good and feels great to kayak in. Would definitely recommend 10/10 - Josh Hudson
I purchased the Double Eagle Pro fishing kayak from Kayaks2Fish and it's been fantastic. Good weight to load and unload onto the car with two people and has an impressive amount of storage space. The kayak is wide enough that when pulling in fish (I've only caught flatties and bream so far) there is almost no tilting. For its size the kayak moves pretty well through the water and is super stable even when taking it into the ocean with small waves. - Joshua
great service and great product I love my new kayak - Paul Dooley
It has been almost 4 weeks now since I purchased the NextGen 11.5 pedal Max drive kayak. Both my mate and I decided to get one each. He went for the Coral (orange) and me, the Thunder (white). We have since been out many times on lakes and inshore waters. I was able to take my NG11.5 out on a 5 days trip to Lake Eildon on my 2nd week of ownership, towed at the back of the house boat when we were traveling to our fishing holes and camping grounds.Also, we did a few runs around Port Phillip Bay and Western Port areas. To be honest, even with some of the negatives (cons) I have, I am overall very happy with how the kayak performs and enjoyment I get, especially with the Max drive system. I have big plan accessorising the kayak in coming months. CONs:1. Biggest frustration, is strapping down the oars on the allocated spot on the right side seems a bit awkward. Firstly it doesn't seem to sit well, on some rough waters/waves or windy days, it can come loose and flop around. The built-in rod holder (right side) has a cap/lid, and it interfere with the oars when trying to strap it down (refer to photo). Plus the hook for the bungee strap is notoriously hard to hook (refer to photo) and I've swapped it over to a bigger tie down hook which makes it a lot easier2. The cord and cleat to release/deploy the rudder and lift it back under, is also in an awkward position as it sit just under where the oars are strapped. I find it challenging when trying to strap cord into the cleat under the strapped oars as there isn't much room to play (refer to photo).3. The foot pedal/stirrup came off on both of my mate's and my NG11.5 Max drive, on our 1st and 2nd time use on water. The nut work itself loose and once it came off the bolt, the foot pedal part can easily slide off the Max drive as you pedal. Managed to screw the nut back on and a dab of blue Loctite thread-locker has since fixed the issue.4. Rudder steering left and right. This I believe is quality control issue. Both my mate and I bought the NG11.5 together (same time) and initially I found it weird that my left and right steering do not seem natural to me. When compared to my mate's NG11.5 kayak, my left and right were in the opposite (the internal cords/tubes were installed opposite). When lifting the steering handle up, the kayak steered left on water, pushing down the steering handle, steers the kayak to the right. Not sure if Kayak2Fish able to fix this on my kayak.5. Other issue with the Max drive system is the black rectangle box where the Max Drive attached and lock into. Mine seems to take in some water (mate's one is fine). I can hear some water sloshing around inside but can't seems to drain it as there is no plug holes. I have a feeling water might have seeped in via the locking screw holes. Again, not sure if Kayak2Fish able to fix this without drilling a hole to let water out.PROs:1. Front and back handle bars. These are super helpful for pulling the kayak on trolley and lifting kayak onto the car's roof rack. Also, these handles have built-in rails for mounting accessories like flag or light poles.2. Big Rudder. Ability to tug the rudder well into the hull (when not in use or in shallows) to avoid damage is well thought of. When deployed, it has very positive and tight turning circles.3. Decent size back and front storage compartments. I managed to store the big wheels of the trolley inside the back storage. This save space as I only need to strap the trolley frame to the back of the kayak.4. Very stable kayak, I was able to stand and fish easily on lakes but can be challenging on open sea or inshore where there are some waves5. Plenty of predrilled brass screw holes all around the kayak to mount and attach tie-down or hooks. I did purchase additional tie-down and screw these in (M6 size screw threaded) where I needed them.6. Lastly, the pedal Max drive is a treat to use. On Eildon lake's Big river arm, I was able to maneuver to spots where motorised dingy couldn't get into and easily travel upto 5-7km on water on daily bases without much sweat. - Ronnie KG Yap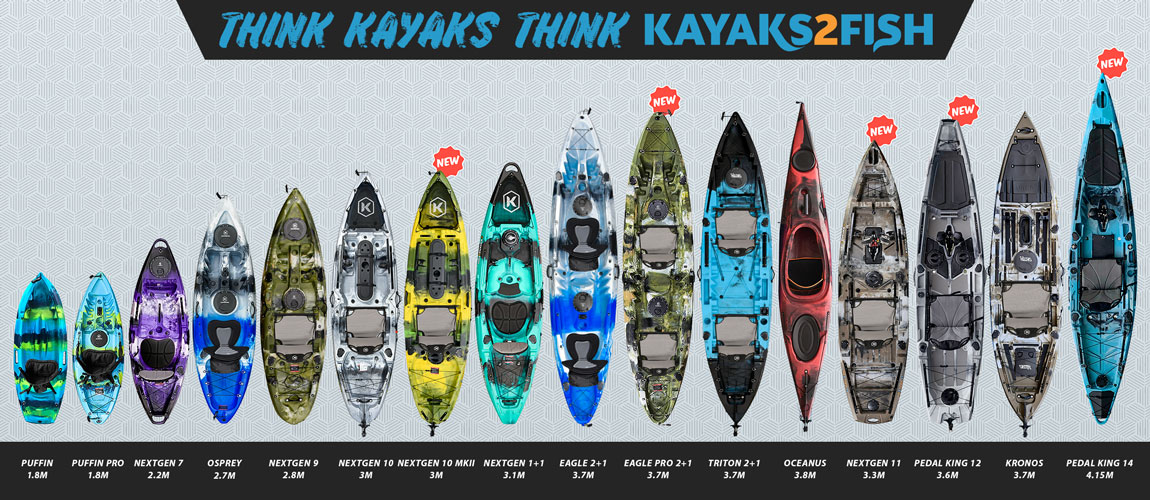 Feature Comparison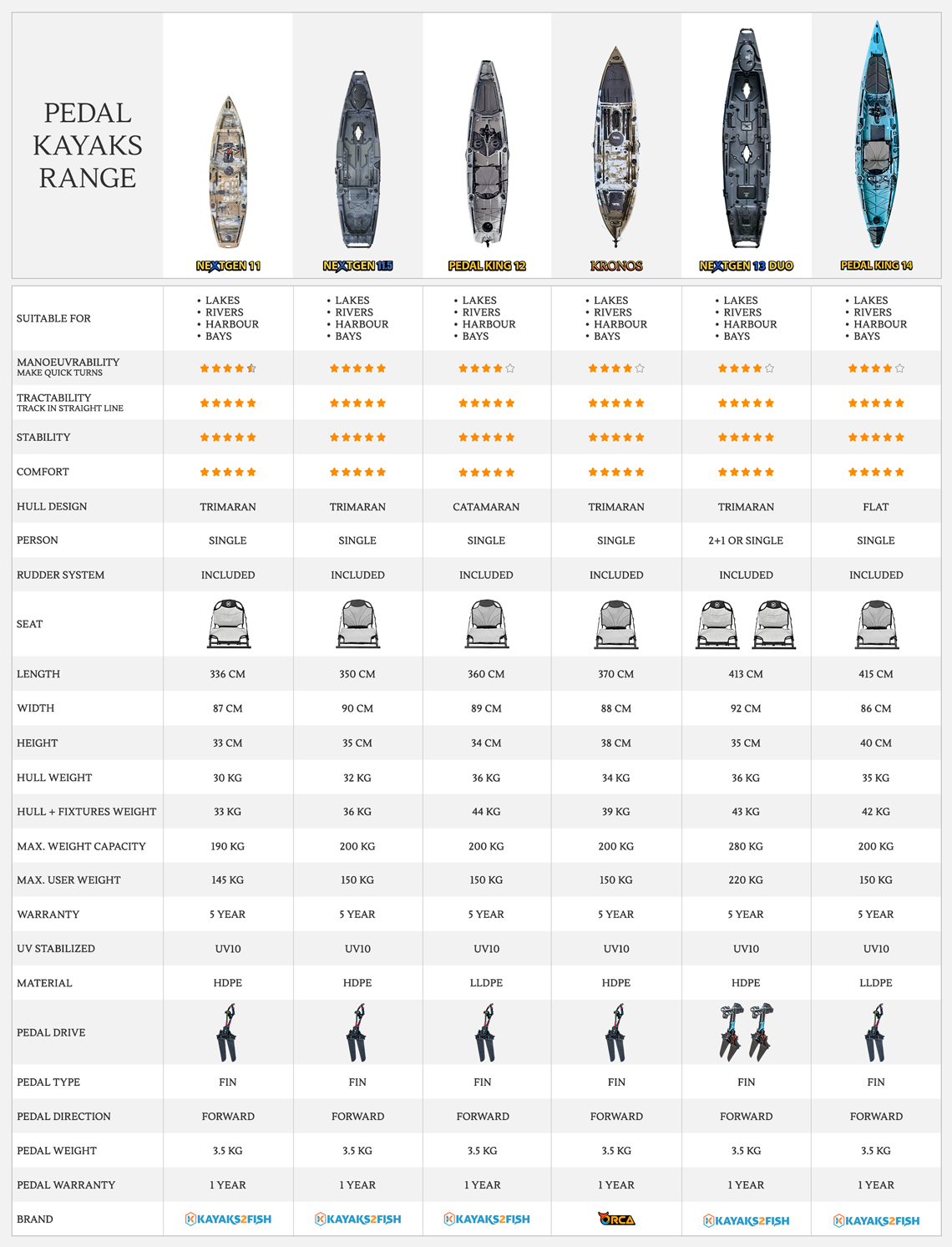 Feature Comparison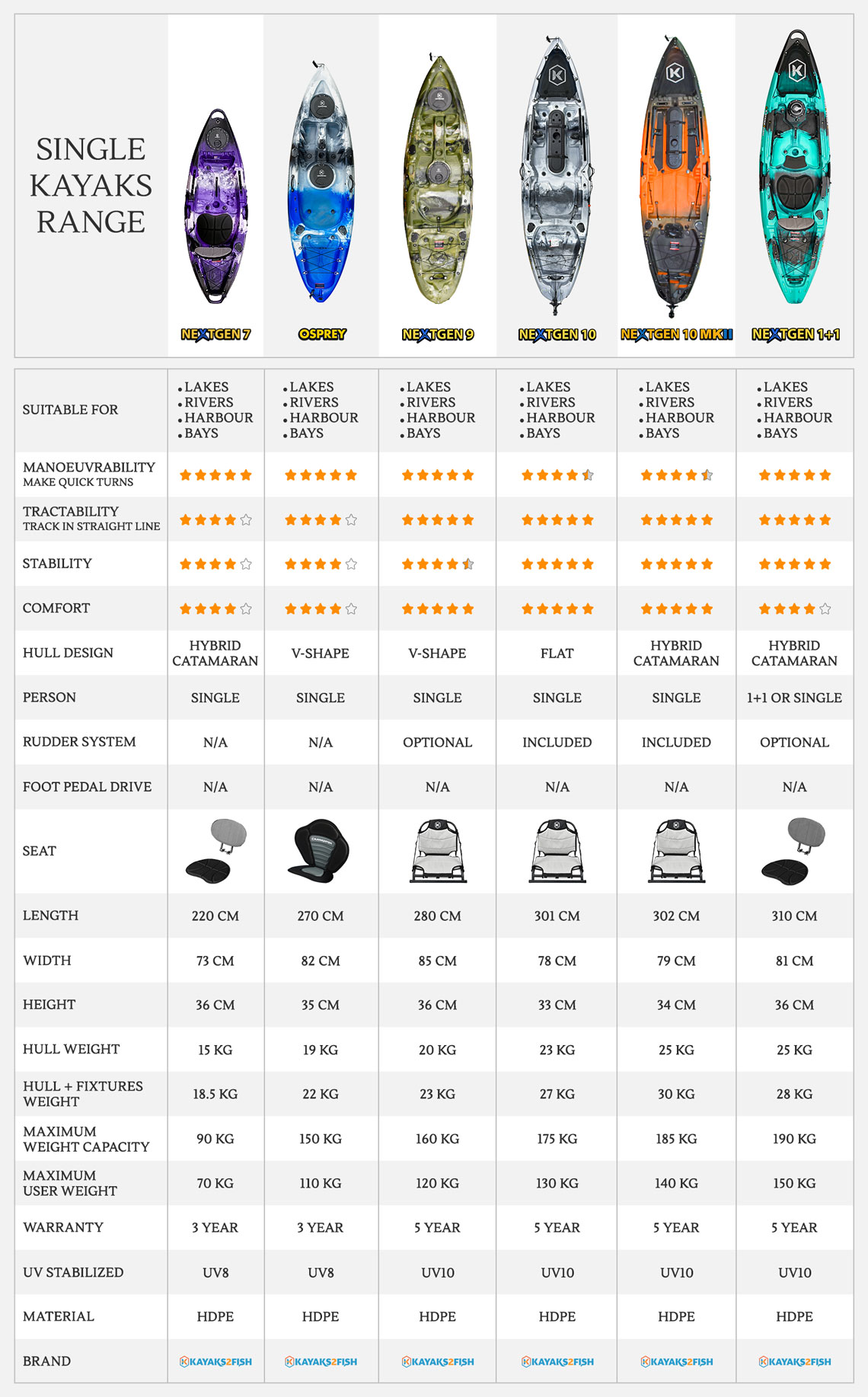 Feature Comparison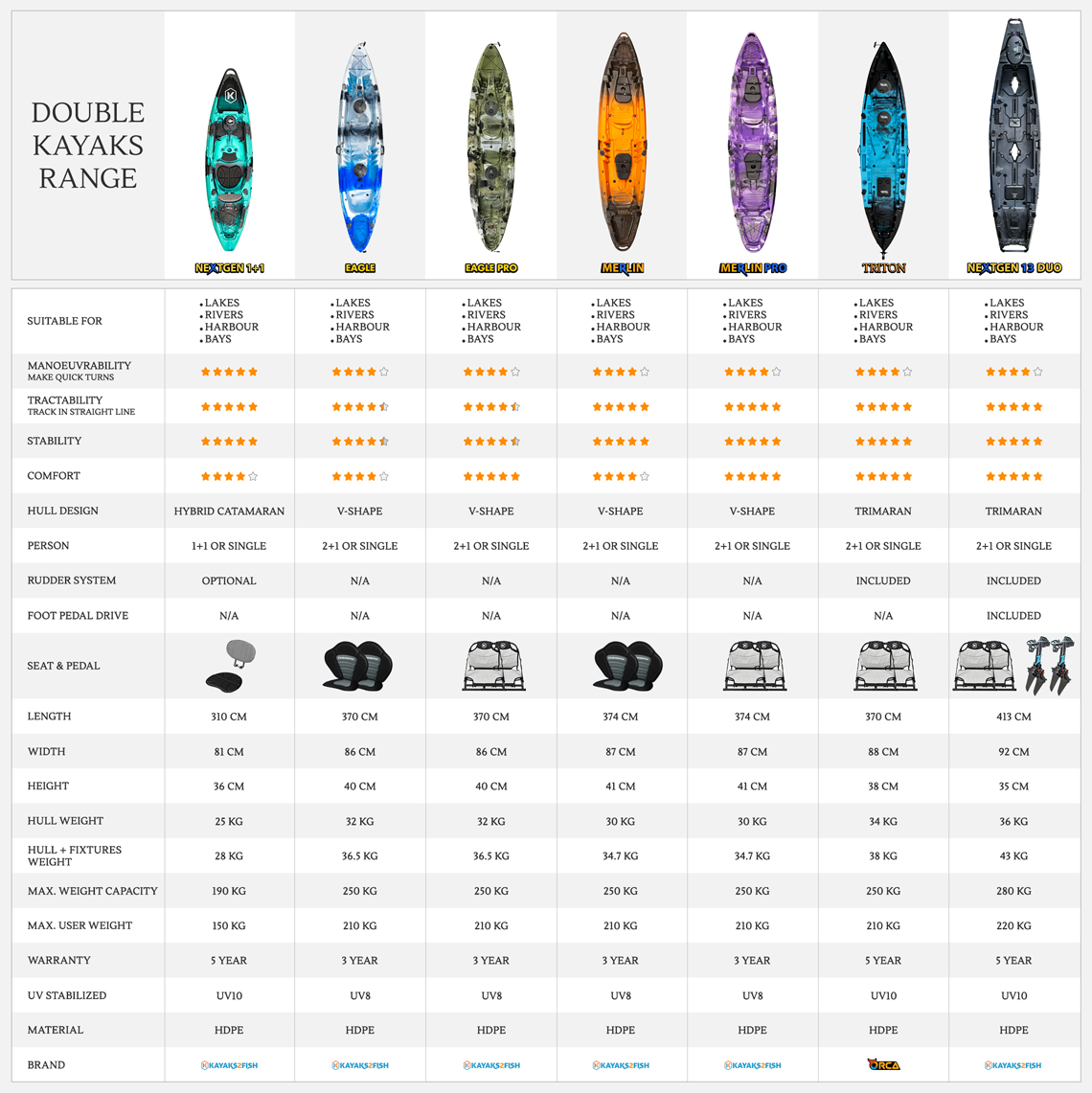 Feature Comparison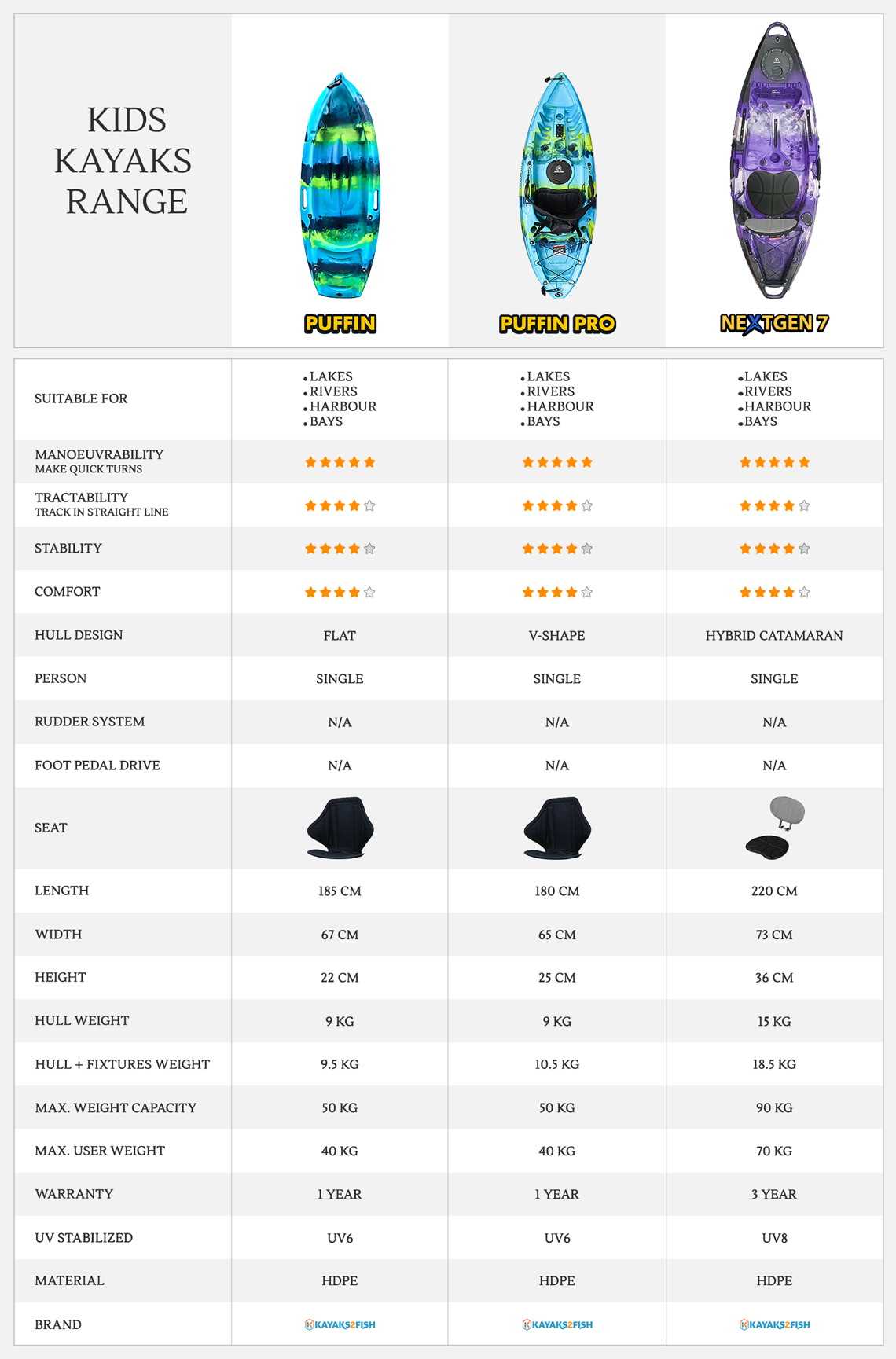 Customer Photos