Woodend 4305 Kayaks
Are you looking for fishing kayaks near Woodend? Great, your search ends here :) We offer free pickup from our Brisbane Warehouse or shipped to Woodend 4305 from $37 per single kayak or from $64 per tandem kayak from our Brisbane Fishing & Recreational Canoes Warehouse. Our kayaks are made with HDPE plastic imported from the UK and manufactured to meet strict Australian standards. Each kayak is treated for UV protection to make the colours last a long time. For 10 years Kayaks2Fish has focused on one thing — bringing the products that are as good as if not better than the big brand stores at a price that doesn't break the bank. Our prices are affordable but it doesn't mean we compromise on quality. Read hunderds of reviews from customer online before you decide to purchase for your peace of mind. We accept both Zippay and Afterpay.
Read More
Recent Reviews:
I bought a K2F Osprey and an Eagle Pro (2 seater). The quality of both kayaks seems to be good, I've used both in the water and am happy with them both in terms of stability, comfort, tracking in the water and fun.The Eagle Pro suffers from one very poor design fault and that is for each seat there is a space for a fishing rod holder, accessible water resistant cargo storage and a drink bottle holder. The front bar of the rear seat goes straight over the middle of the drink bottle holder, rendering the bottle holder completely useless. It is beyond me how such a basic design fault could be allowed through the design and QA process. All three features could have been moved forward slightly to allow use of the drink bottle holder, or they could be placed in the same order as they are on the front seat. Another option would be to redesign the chair so it does not have a bar running the full width of it.The other issue I have is the paddles. I received three paddles with the two kayaks, and the right blade of each paddle was at the wrong angle for the right hand grip of the paddle, making them very uncomfortable to paddle with. And the angle was not consistent in the three paddles either, which is careless design. I had to drill the rivet out of each paddle and refit the blade so it was at the correct angle to the grip to make them comfortable to use. The other issue with all three paddles was that they are sold as 'floating paddles' but they allowed water in when one was paddling on the right end (and that was just with normal use, not even fully submerging to paddles). I would think after a long session on the water I doubt the paddle would float if it was dropped if too much water gets in it. Both these issues with the paddle were an easy fix for me, but it is frustrating when you buy a product and then have to fix it so it can be properly used.In saying these things, I would buy from Kayaks 2 Fish again but I would l look more carefully at the design of the kayaks before purchase. - Dan Gee
Great store, they offer plenty of support even after you've made your purchase. Prices are great. Kept us informed of our delivery ETA. Will continue to purchase from here. - Elissa B.
can't thank the guys at kayaks2fish enough, always in constant contact in regards to how my order was going, from the start up to the delivery, great product at unbelievable and unbeatable prices, don't shop anywhere else until you've checked out kayaks2fish, tomorrow 2nd is my Nextgen10 maiden voyage, so excited - Mark Osborn
My friend and I bought a kayak each along with a cover, wheels and bouyancy vest about a month ago. It has been amazing getting out every weekend on the beautiful Georges River.We had our kayaks delivered within 24 hours of ordering them. The service and knowledge given from Kayaks 2 Fish has been very informative and useful.Thank you - Maree D'Astoli
Bought my Rainbow Osprey a few months ago and have been out kayaking a few times a week. It's perfect for me, a woman in my 60's as its not too long or heavy and simply slides in and out of my car and then wheels to the water. Great storage which is easily accessible while on the water. It's really stable even for beginners and kids. Great value and fun. - Sue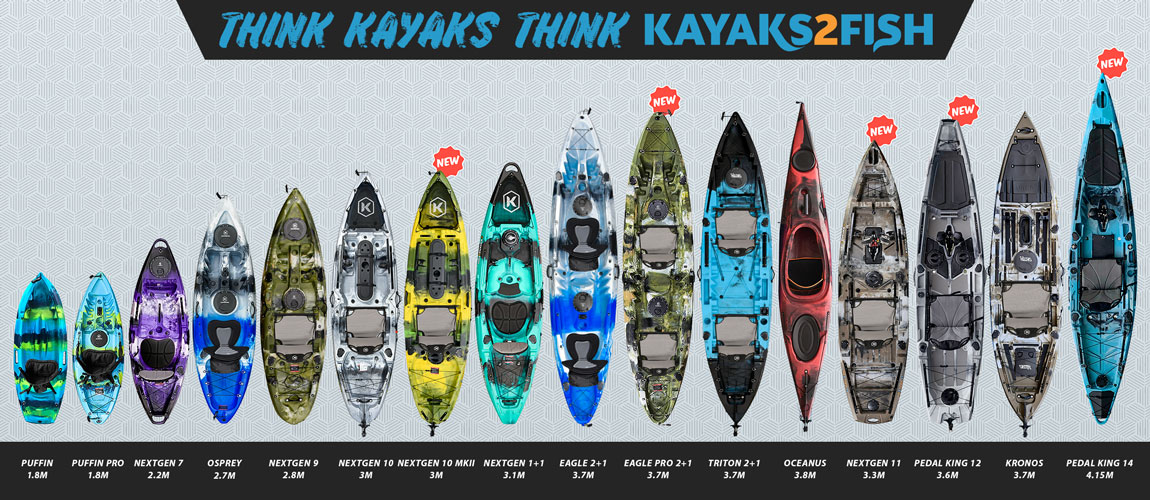 Feature Comparison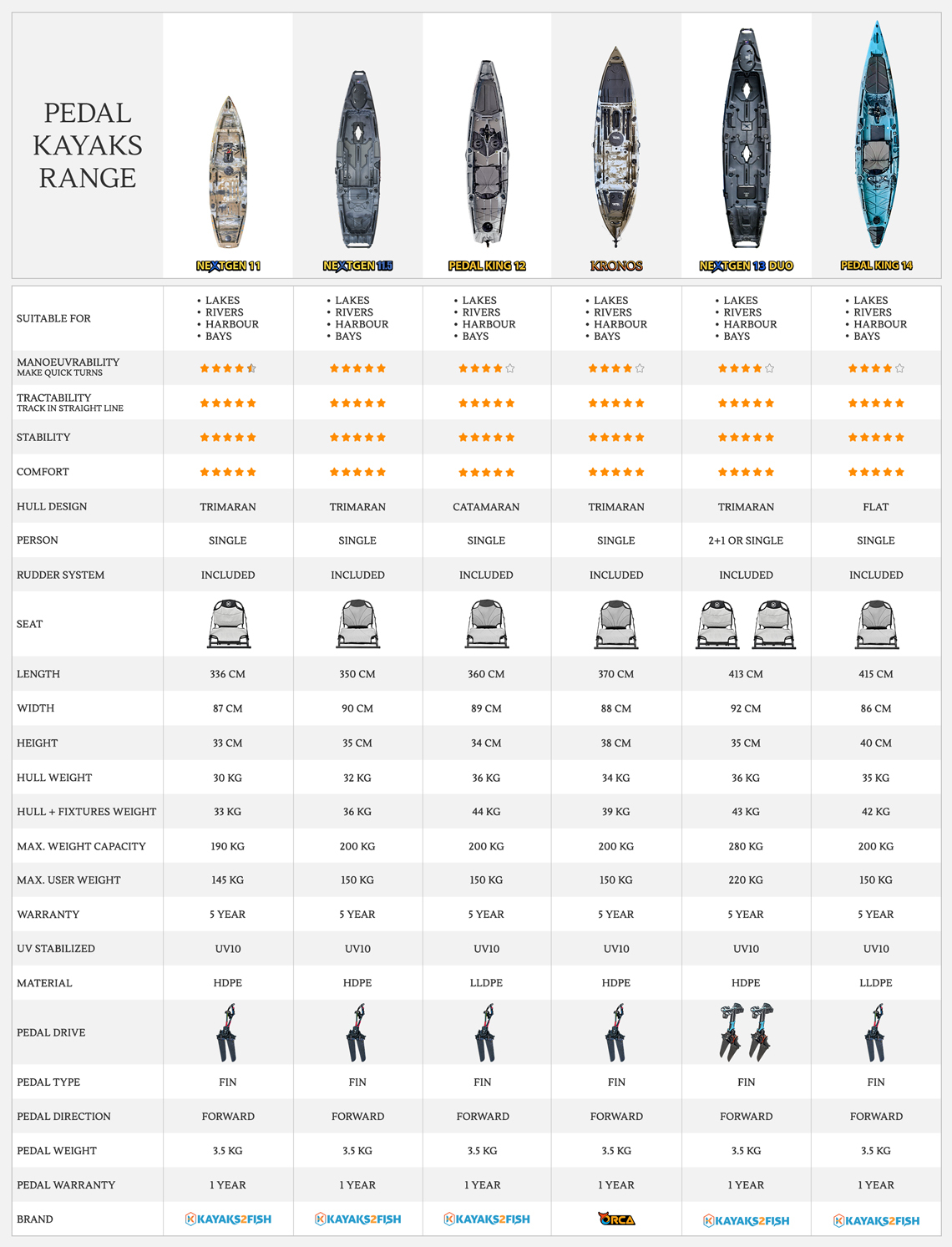 Feature Comparison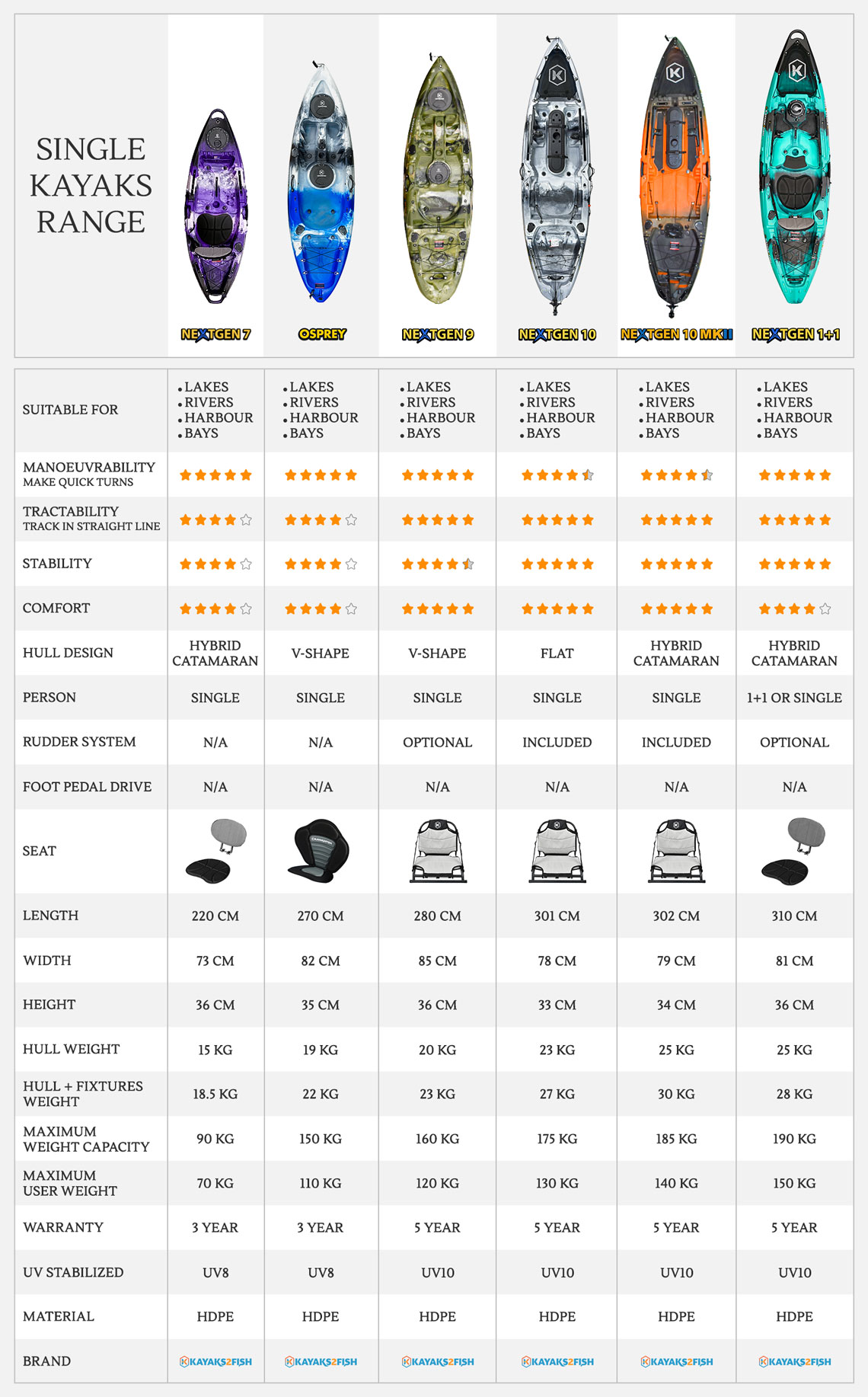 Feature Comparison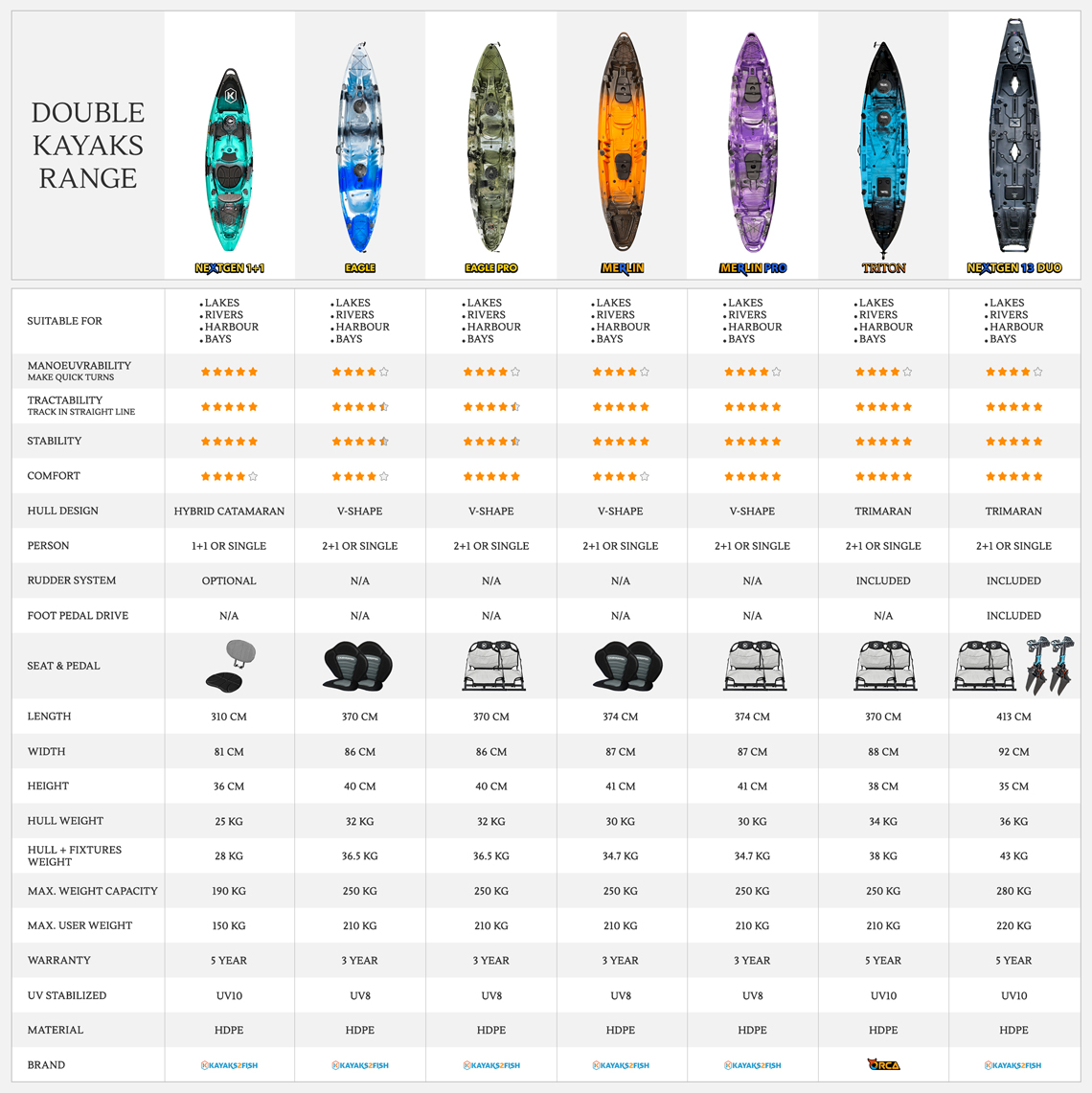 Feature Comparison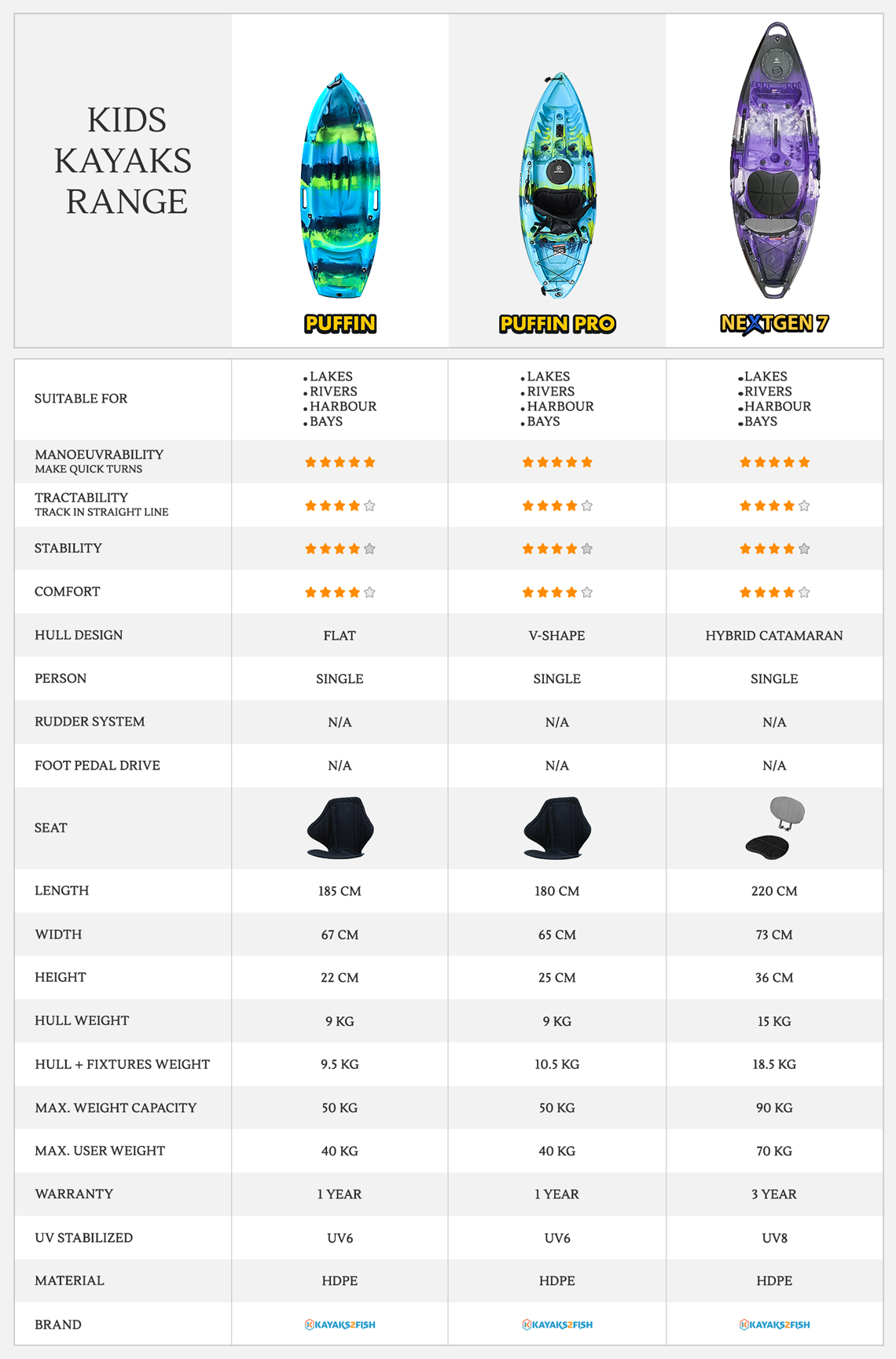 Customer Photos