Silver Sands Kayaks
No matter if you are after fishing or recreational kayaks in Silver Sands you have come to the right place. You can have our kayaks shipped to Silver Sands 6210 from $56 per single kayak or $84 per tandem kayak, or pick them up from our Perth Single & Double Fishing Kayaks Warehouse Shop. Each kayak is manufactured under strict quality supervision. We also treat our kayaks with UV protectant to maintain the colours and strength for a long time. Our mission is to help as many people as we can to get out on the water with our kayaks that offer good value. Before you purchase we recommend to check out feedback from our past customers, you can find them on Facebook and Google. And just so you know we also acccept Zippay and Aferpay.
Read More
Recent Reviews:
After a couple of years researching products and prices I decided to give Kayaks2 Fish a go when the money was finally in the bank. The 80km round trip to collect the kayak was going to be a small hassle to endure, considering what was on offer and available at local suppliers. The online purchase procedure is simple. The response via text and email is immediate, advising me that my NG09 was ready for pickup at a warehouse and useful reminders about bringing necessary equipment for securing the kayak to my vehicle. I ordered at 6.25pm so the pickup trip was going to be the next morning. Here's where things went awry... a bit. The colour I ordered, though designated 'in stock', wasn't stocked at the warehouse. The warehouse owner who handles the transfer to buyers was fantastic. I was advised this happens often and is a simple matter of phoning the business direct to arrange a change to a colour in stock. Simple. That's all it took but the business needs to rectify a longstanding problem here.I found the receptionist totally helpful, polite and a calming influence. I was offered tips like checking screws for tightness (a must do because only a few didn't need a tweak) and should be done regularly.The single rivet securing the paddle blade to the shaft looks inadequate.This is a specky looking craft. I know I'll love it! Looking forward to fishing on WA rivers and protected bays. - Lynn
Great web site. Great prices ( look out for the specials).Friendly helpful staff.As a retired IT Professional I was looking for something new to fill that gap in my free time when I found kayak2fish. https://www.kayaks2fish.comAs a keen fisherman this struck a cord with me and I started to research with a passion. The website has everything you need to get started as a yakker and the staff have been excellent. Getting involved on the face book groups is enjoyable and virtually meeting the great k2f community out there. I'm now a proud owner of a new Orca Triton Pro (plus accessories to fit) and am looking forward to getting out there and enjoying the lakes and bay in my new fishing boat with other like minded fishos. - Mark Phillips
My friend and I bought a kayak each along with a cover, wheels and bouyancy vest about a month ago. It has been amazing getting out every weekend on the beautiful Georges River.We had our kayaks delivered within 24 hours of ordering them. The service and knowledge given from Kayaks 2 Fish has been very informative and useful.Thank you - Maree D'Astoli
Purchased two kayaks last November. One paddle broke on connection point where two bits slide in together. Rang and sent photos of broken part. Had new paddle swapped over with no drama's and even got a call from manager to confirm all was good. "Excellent service". Only complaint is I don't use them enough to enjoy. Thanks!! - Peter Wood
I bought a couple of Kayaks to go fishing or for just a quiet paddle far away from all the cars. We picked the NextGen 9 as they fit more with what we'd use them for. I flipped it over on my first outing (it was very windy), but that's all a part of the fun!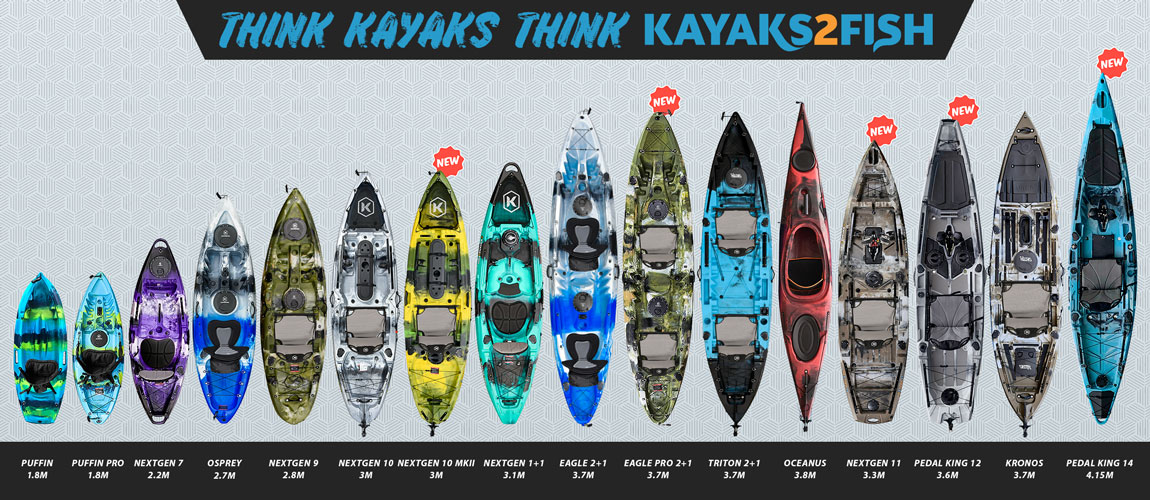 Feature Comparison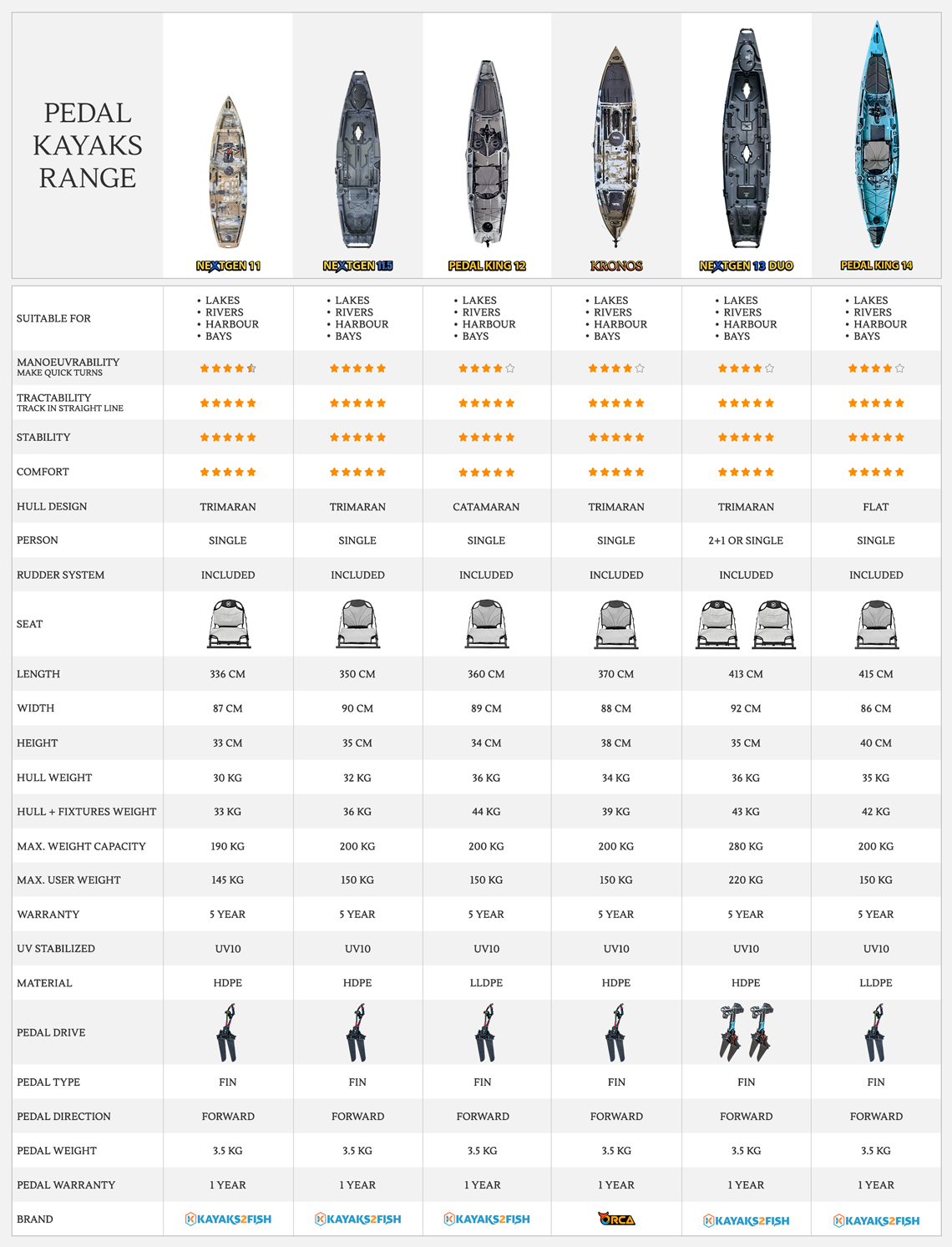 Feature Comparison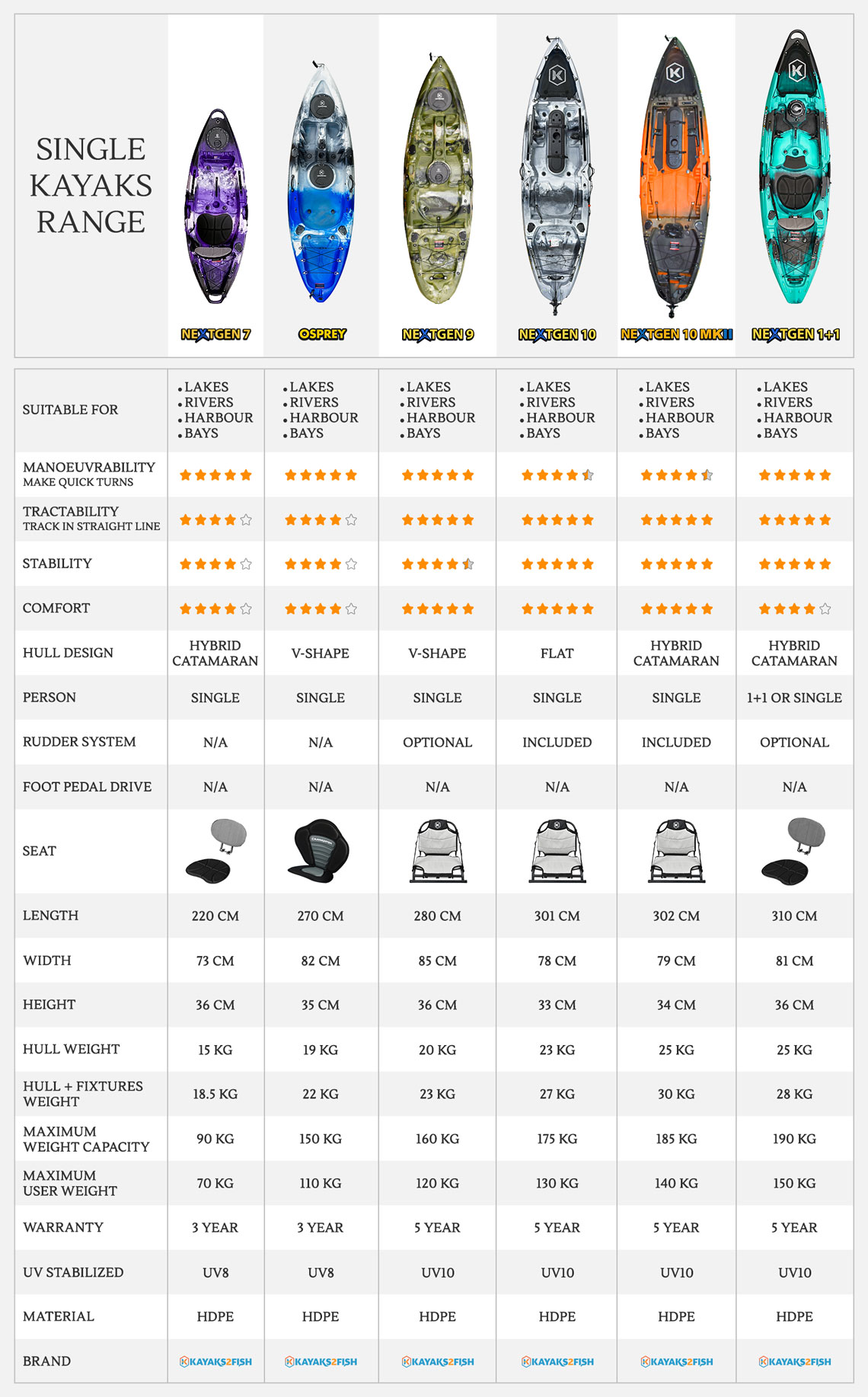 Feature Comparison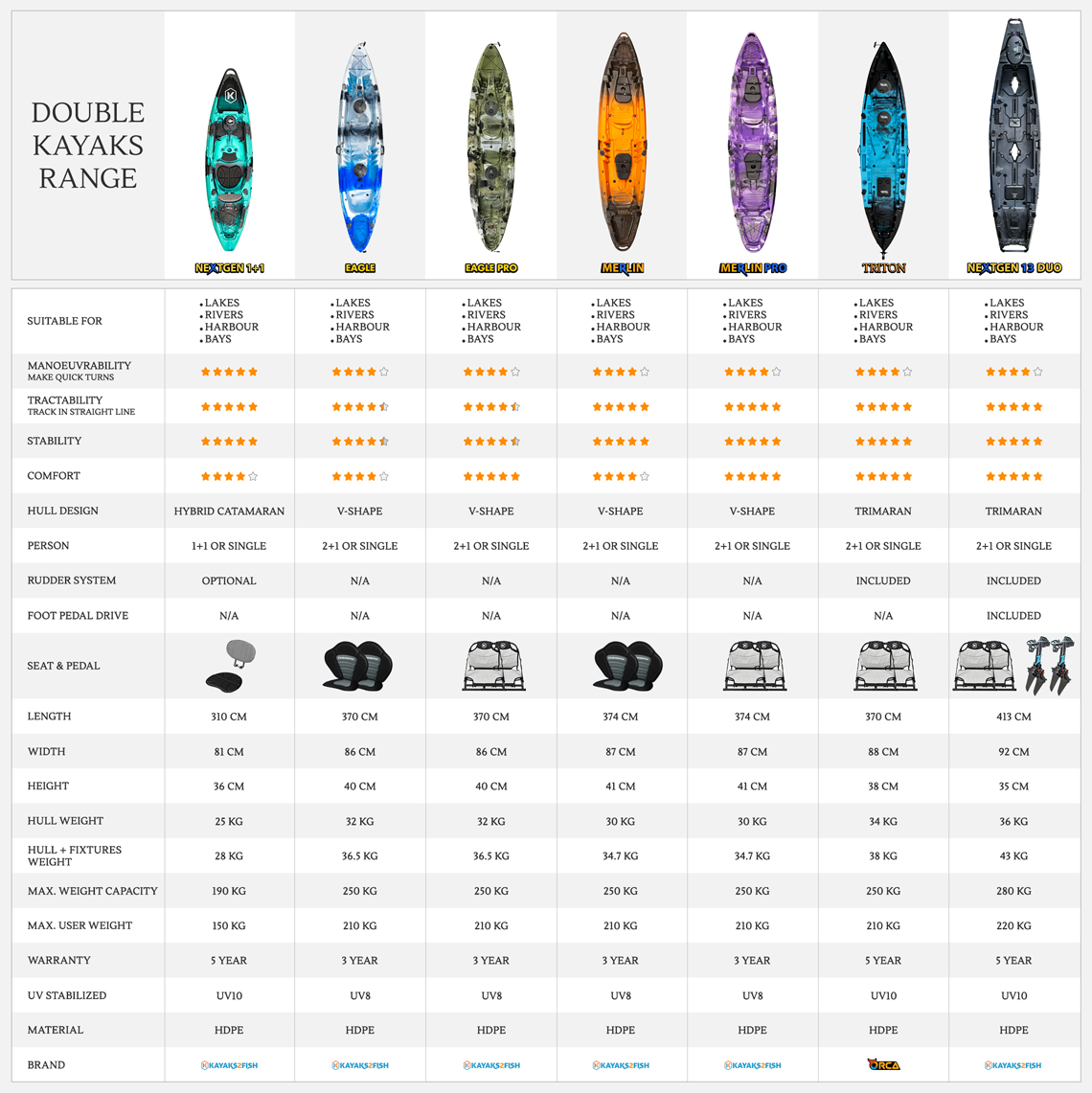 Feature Comparison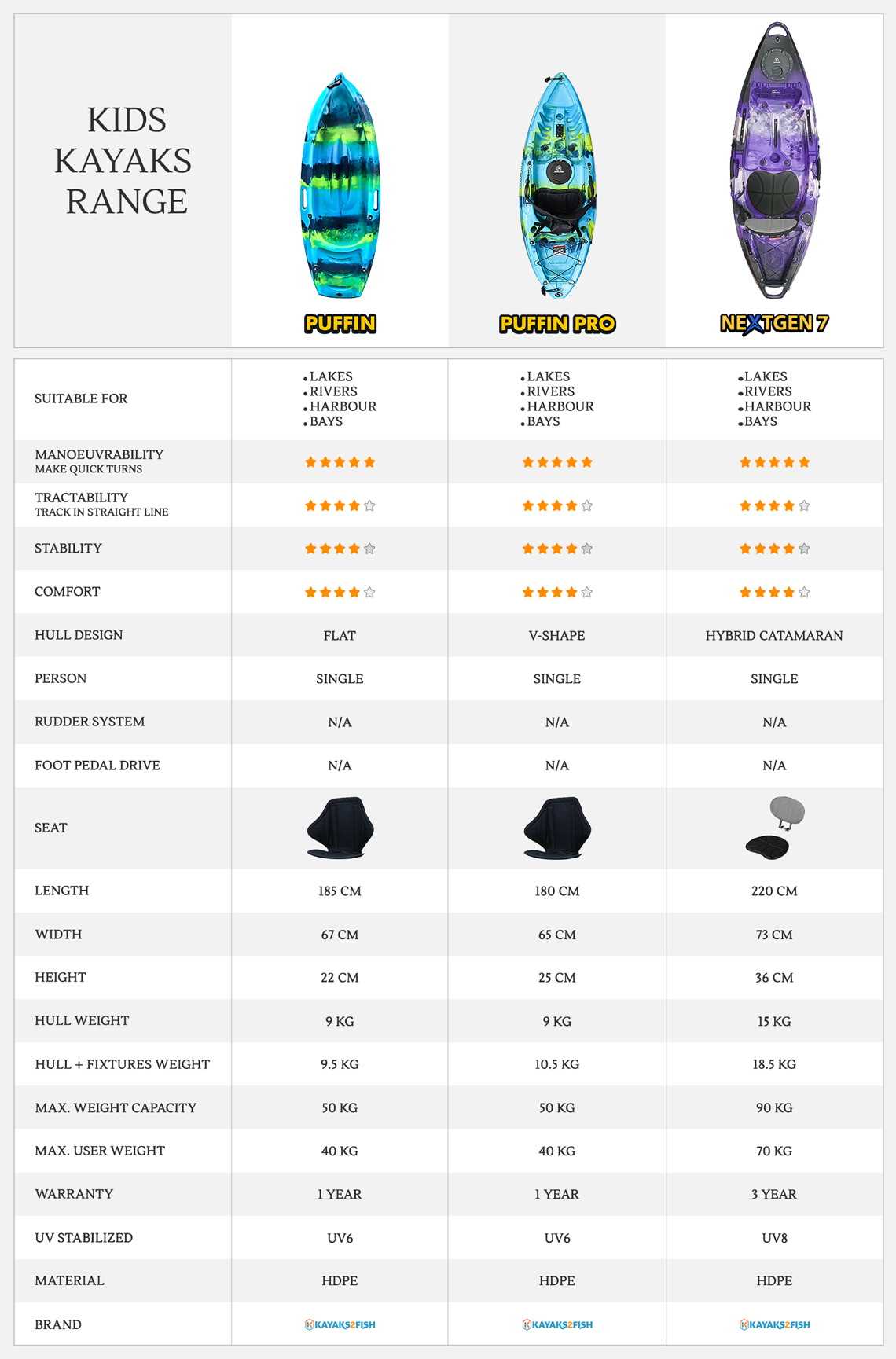 Customer Photos