Hopetoun 6348 Kayaks
For kayaks in Hopetoun look no further than Kayaks2Fish. We offer wide range of kayaks from singles to doubles from kids to adults and beginners to pro. You can either pick them up from our Perth Fishing & Recreational Kayaks Factory or have them shipped to Hopetoun 6348 for an extra cost. Each kayak is manufactured under strict quality supervision. We also treat our kayaks with UV protectant to maintain the colours and strength for a long time. Our mission is to help as many people as we can to get out on the water with our kayaks that offer good value. Our kayaks are highly rated and reviewed by hunderds of customers on websites like Facebook, Google and Product Review. Make sure to check them out before you purchase. And just so you know we also acccept Zippay and Aferpay.
Read More
Recent Reviews:
Great kayak for fishing, yet paddle joining clip & leash didn't last long, corroded very quickly even after full fresh water wash downs after use, and seat can get uncomfortable after an hour or so. Apart from that would highly recommend for value for money. - Mister T
I bought a K2F Osprey and an Eagle Pro (2 seater). The quality of both kayaks seems to be good, I've used both in the water and am happy with them both in terms of stability, comfort, tracking in the water and fun.The Eagle Pro suffers from one very poor design fault and that is for each seat there is a space for a fishing rod holder, accessible water resistant cargo storage and a drink bottle holder. The front bar of the rear seat goes straight over the middle of the drink bottle holder, rendering the bottle holder completely useless. It is beyond me how such a basic design fault could be allowed through the design and QA process. All three features could have been moved forward slightly to allow use of the drink bottle holder, or they could be placed in the same order as they are on the front seat. Another option would be to redesign the chair so it does not have a bar running the full width of it.The other issue I have is the paddles. I received three paddles with the two kayaks, and the right blade of each paddle was at the wrong angle for the right hand grip of the paddle, making them very uncomfortable to paddle with. And the angle was not consistent in the three paddles either, which is careless design. I had to drill the rivet out of each paddle and refit the blade so it was at the correct angle to the grip to make them comfortable to use. The other issue with all three paddles was that they are sold as 'floating paddles' but they allowed water in when one was paddling on the right end (and that was just with normal use, not even fully submerging to paddles). I would think after a long session on the water I doubt the paddle would float if it was dropped if too much water gets in it. Both these issues with the paddle were an easy fix for me, but it is frustrating when you buy a product and then have to fix it so it can be properly used.In saying these things, I would buy from Kayaks 2 Fish again but I would l look more carefully at the design of the kayaks before purchase. - Dan Gee
Recently purchased a kayak for my 7 year old son. He absolutely loves it. The staff were very friendly and helpful to ensure we bought the correct sizing for him and one that came with all the accessories and would last a few years. - Amy L.
We purchased 2 Ospreys and a Nextgen 1+1 packages recently and they have been amazing! So sturdy on the water, we actually practised capsizing and re-entering the kayak and it took some effort to actually capsize. They are really easy to...steer (cant think of a better word). We really love the range of vibrant colours and are really happy with the quality and price. - Lisa
Received my NextGen10 kayak 2 weeks ago. It's exactly what I expected from the online order. I'm brand new to kayaking and found this particular model very user friendly to the novice. First trip out on the Swan River on a beautiful 33 degrees morning and I was joined by 9 dolphins. Quite an incredible experience for my first trip out! I can highly recommend Kayaks2Fish for anyone wanting to get started on a Kayak. I have purchased a number of assorted accessories which have also been to a high quality finish.Regards Ian Atherton - Ian Atherton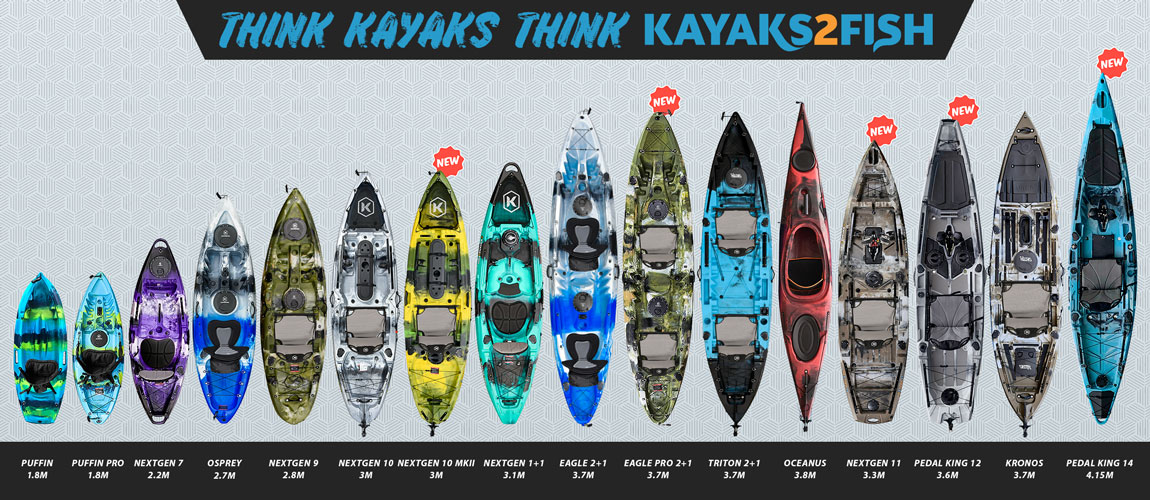 Feature Comparison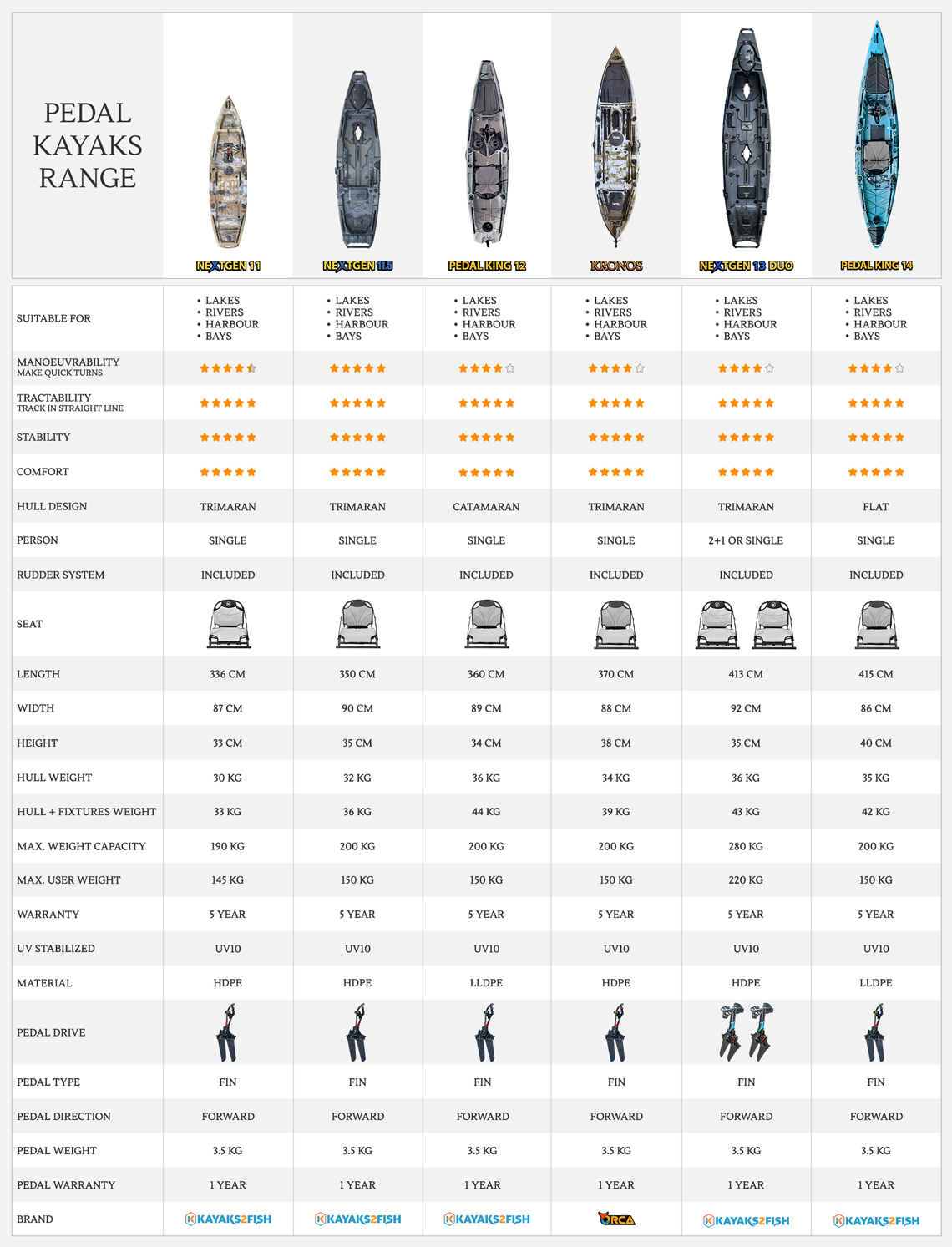 Feature Comparison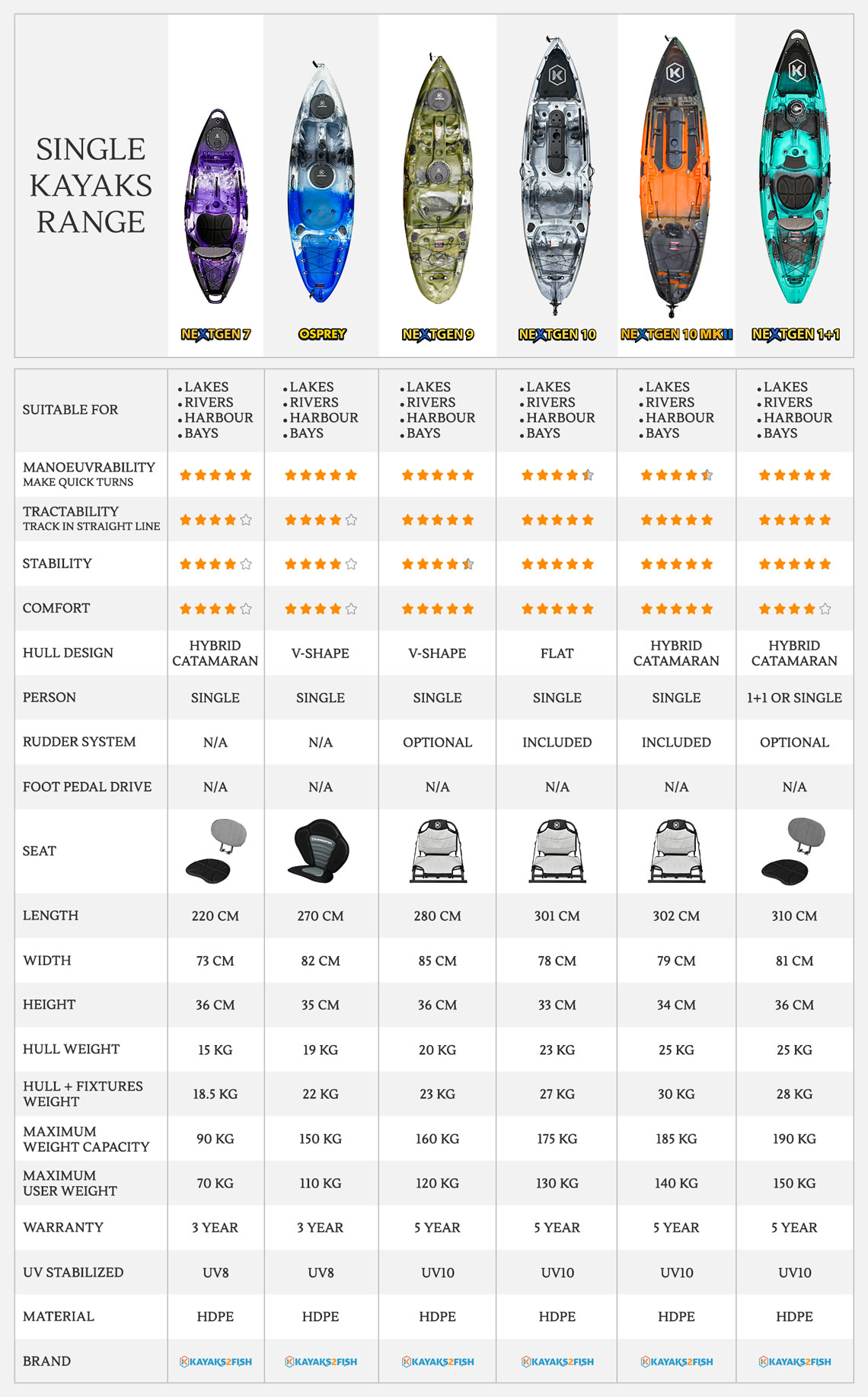 Feature Comparison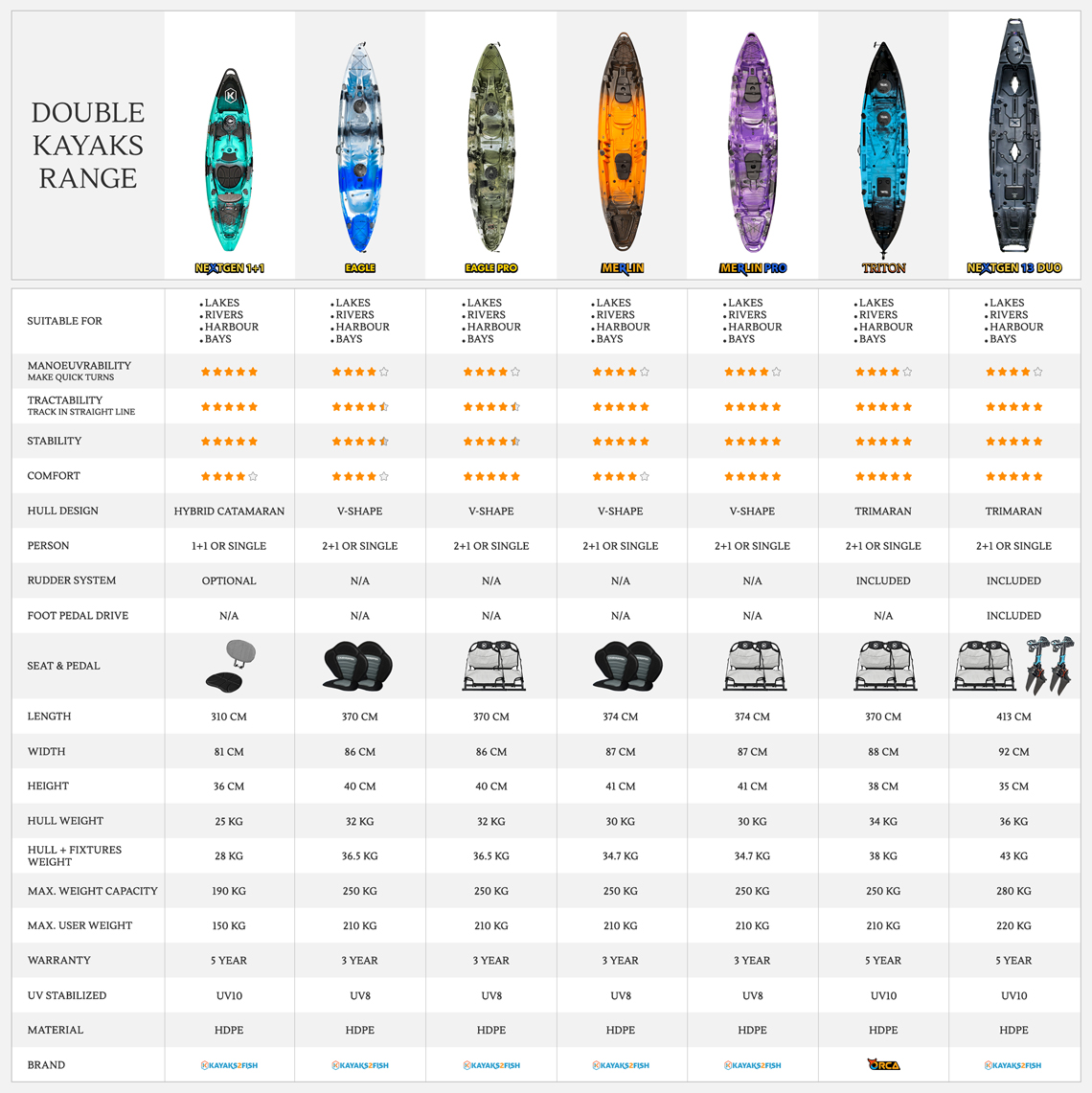 Feature Comparison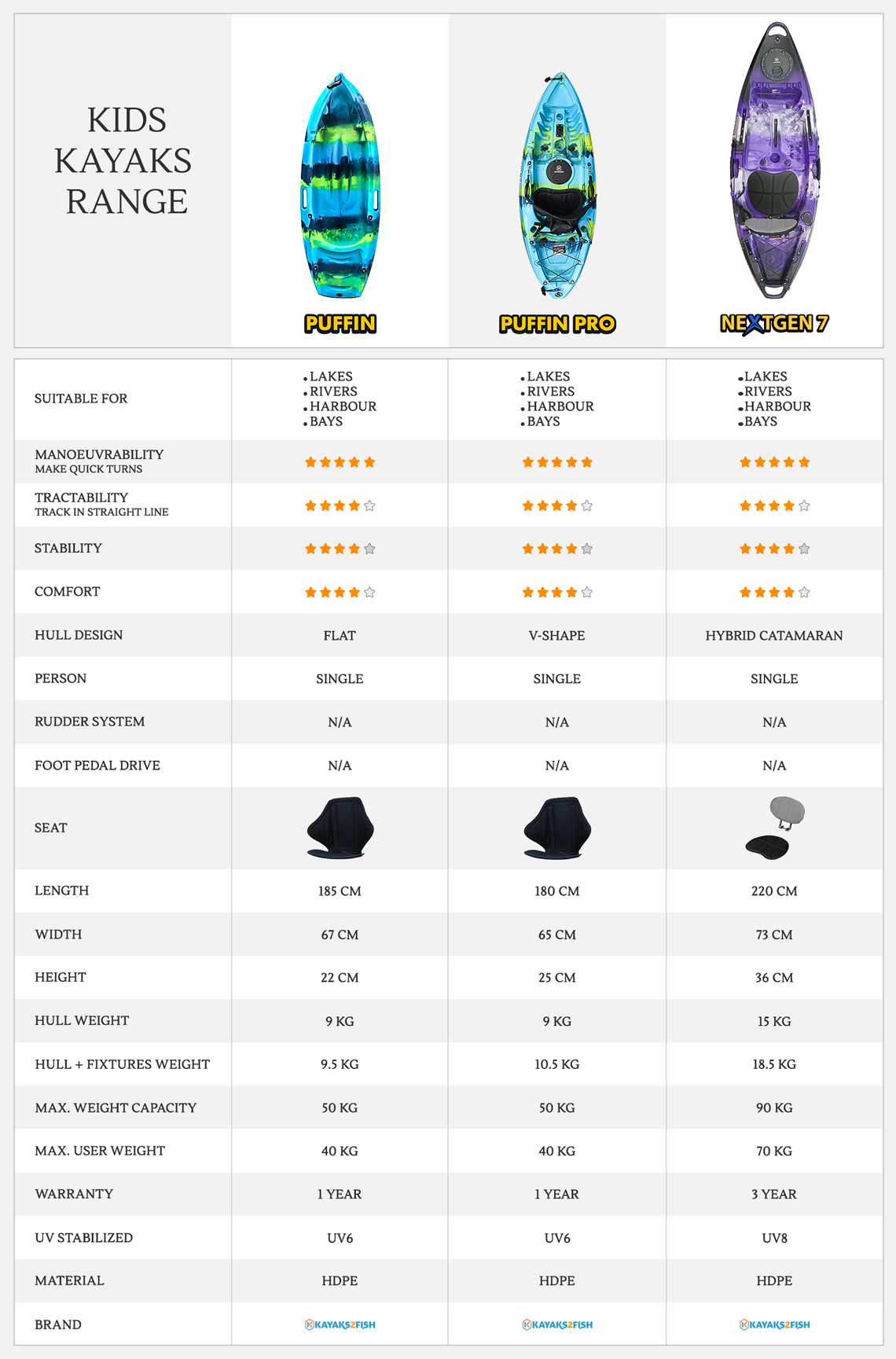 Customer Photos