NG09 Motor Bundle
Items
$259

$259

$599

$599
Description
Watersnake Trolling Motor 18lb Thrust Electric Trolling Motor and Straight Mounting Kit [Delivered]
Recommended for Osprey, NextGen 09, NextGen 10, NextGen 1+1 Kayaks
The Watersnake ASP T18 Transom Mount Electric Trolling Motor motor provides 33 percent more thrust than the 18 lbs sucker, yet is still extremely lightweight and retains the same lower unit diameter as the 18 lbs suckers. Jarvis Walker have also added a new transom bracket to the 18 lbs motor which makes it more rigid and adds to the overall efficiency. All Watersnake Asp motors feature a high or low speed control, forward or reverse switch, a stow away handle and two-blade propeller. The ASP T18 is suitable for use in freshwater and saltwater.

Watersnake ASP T18 Transom Mount Electric Trolling Motor Features:
18lbs Maximum Thrust
12-Volt Motor Amp draw 9 -20 amp at 12vdc
2 Speeds Hi and Low
Forward and Reverse control
Heavy Duty Nylon Transom Bracket Mount
2-Blade Weedless Propeller
Tiller Handle
24-Inch Stainless Steel Propeller Shaft
Encapsulated Electric Circuits & Connections
Fresh or Saltwater Use
Designed to mount behind the seat of our fishing kayaks using the mounting motor bar groove
This Motor Mount Bar is designed for use with Electric Trolling Motors with a maximum thrust of up to 50lb, any use by a motor with a greater power rating then 50lb thrust may cause a critical failure of the mounting bar, and subsequent damage or loss of both the mounting bar and motor.
Battery not included.
PLEASE NOTE: Do check your state/local Marine (boat) license requirement to operate canoe/kayak with a trolling motor prior to purchasing.
Kayak, rod holders and outrigger setup are not included.
FPV-Power Kayak Battery Combo 12V 50AH [Delivered]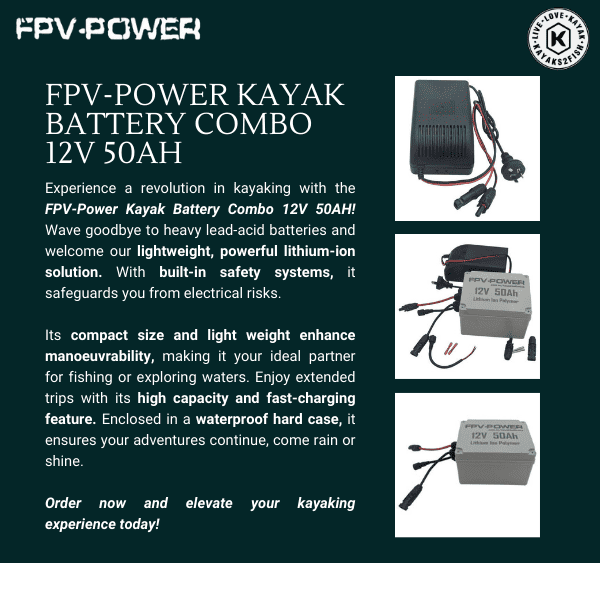 FPV-Power Kayak Battery Combo 12V 50AH
Introducing the FPV-Power Kayak Battery and Charger Combo, featuring a high-capacity 12V 50AH lithium-ion polymer battery pack. This game-changing kayak battery and charger combo is designed to revolutionize your kayaking experience.
Safety is the number one priority, which is why they have included a built-in Battery Management System (BMS) in these lithium-ion polymer battery packs. The BMS not only protects the battery from over-discharge during use but also safeguards against overcharge when charging. Additionally, it features an auto cut-off system that instantly shuts off power in case of external short-circuit risks.
These lightweight yet powerful kayak batteries are physically much smaller than comparable lead acid ones while providing longer-lasting power for extended trips on the water. With their compact size and weight reduction compared to traditional lead-acid batteries, you'll be able to navigate through narrow waterways with ease.
The FPV-Power Kayak Battery comes terminated with 60A plugs supplied for easy connection to your motor leads. It's also provided with spare plugs so you can always stay prepared on your adventures!
Don't miss out on this opportunity to upgrade your kayaking gear with the reliable performance of the FPV-Power Lithium Ion Polymer Batteries! Order yours today and take advantage of all they have to offer.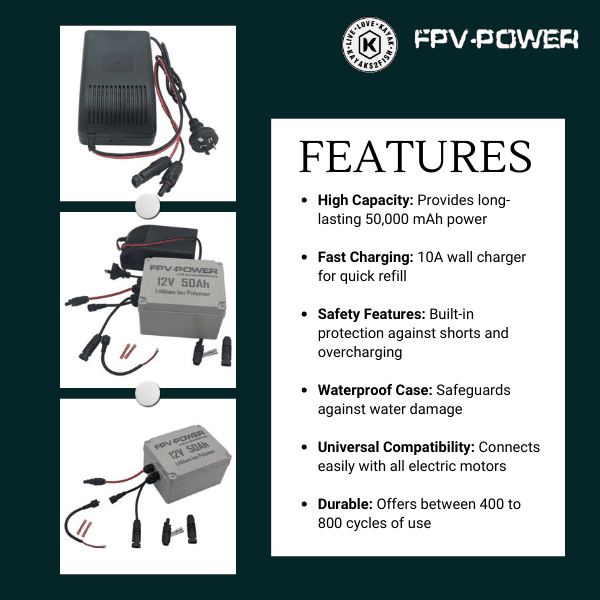 Features:
High Capacity: With a large capacity of 50AH, you get long-lasting power for extended kayaking trips.
Fast Charging: The included 10A wall charger replenishes your battery quickly, reducing downtime between adventures.
Safety Features: The built-in Battery Management System protects against short circuits and overcharging, keeping you safe on the water.
Waterproof Case: The battery comes in a waterproof hard case, so you don't have to worry about water damage.
Compatible with All Electric Motors: A waterproof plug and spare are provided for easy connection to any motor leads.
Durable: This battery is designed to last, offering between 400 to 800 cycles of use.
Specifications:
Brand: FPV-Power
SKU: FPV-50AH-MOT-BAT-V
MPN: 10232
UPC: 635963953706
Length: 170 mm
Width: 140 mm
Height: 95 mm
Weight: 3.2 kg
Package Weight: 4.1 kg
Capacity: 50AH
Voltage: 12V
Charging: 10A
Amp Draw: 60A Max
Cycle Life: 400-800 cycles
Package Includes:
1 x FPV-Power 50AH Kayak Battery
1 x 10A Wall Charger
1 x Spare Waterproof Plug for Motor Leads Connection
1 x Waterproof Connector Set
1 x Male Pigtail
2 x Crimp Shrinks
Warning & Disclaimer:
Always handle the product with care. Keep away from heat and flame. Avoid short-circuiting the battery.
Do not attempt to disassemble, alter, or service the battery. All repairs should be carried out by a professional.
Always ensure the battery is properly secured in your kayak to avoid damage due to movement or impact.
FPV-Power is not responsible for any damage or harm caused by misuse, improper installation, or failure to adhere to these warnings and precautions.
Always disconnect the battery when not in use to prevent accidental draining. It's also advised to recharge the battery after every trip to maintain optimal performance.