NG09 Essentials Bundle
Items
K2F New Model Kayak Trolley for Sit on Top Kayaks with Straps [Delivered]

$89

$89

$95

$95

$59

$59

$15

$15
Description
K2F New Model Kayak Trolley for Sit on Top Kayaks with Straps [Delivered]
New Model Kayak Trolley for Sit on Top Kayaks with Straps - Kayaks2Fish
This kayak trolley makes transporting kayak from your vehicle to the water easier and hassle free. It is designed to hold kayak up to 30kg
Large 25cm diameter flat free tyres provide stable support on uneven terrain which is especially useful in sandy areas. Straps are also included to secure your kayak onto the cart. It can be assembled and dissembled quickly and easily - in less than one minute. And a clever, well thought-through design means the dissembled kayak will be able to be stored neatly in the kayak storage compartment whilst you are out on the water.
Key Features
• Lightweight compact construction, yet very sturdy and durable
• Heavy duty rustproof marine-grade anodised aluminium frame
• Tapered scupper grippers to suit different sized scupper holes
• Easy to adjust, to suit a wide range of kayaks and canoes
• Adjustable middle bar - Width of the arms adjust from 100mm to 335mm (centre to centre)
• Guaranteed to track straight unlike many other types of kayak trolleys
• Large non-pneumatic tyres (no air needed), 250 x 70mm, great on sand, gravel and road
• Trolley is completely collapsible within seconds, with removable wheels for storage or to fit into the rear hatch of your kayak or in your car
• Quick release clips to quickly and easily remove wheels, hassle free
• Supplied in a flat pack box.
• No more lugging your kayak to and from the water's edge again!
Specifications
• Load capacity: 30kg Max.
• Overall Width: 285 to 520mm (including wheels)
• Adjustable arm width: 100mm to 335mm (centre to centre)
• Height: 510mm
• Weight: 2.6 kg Net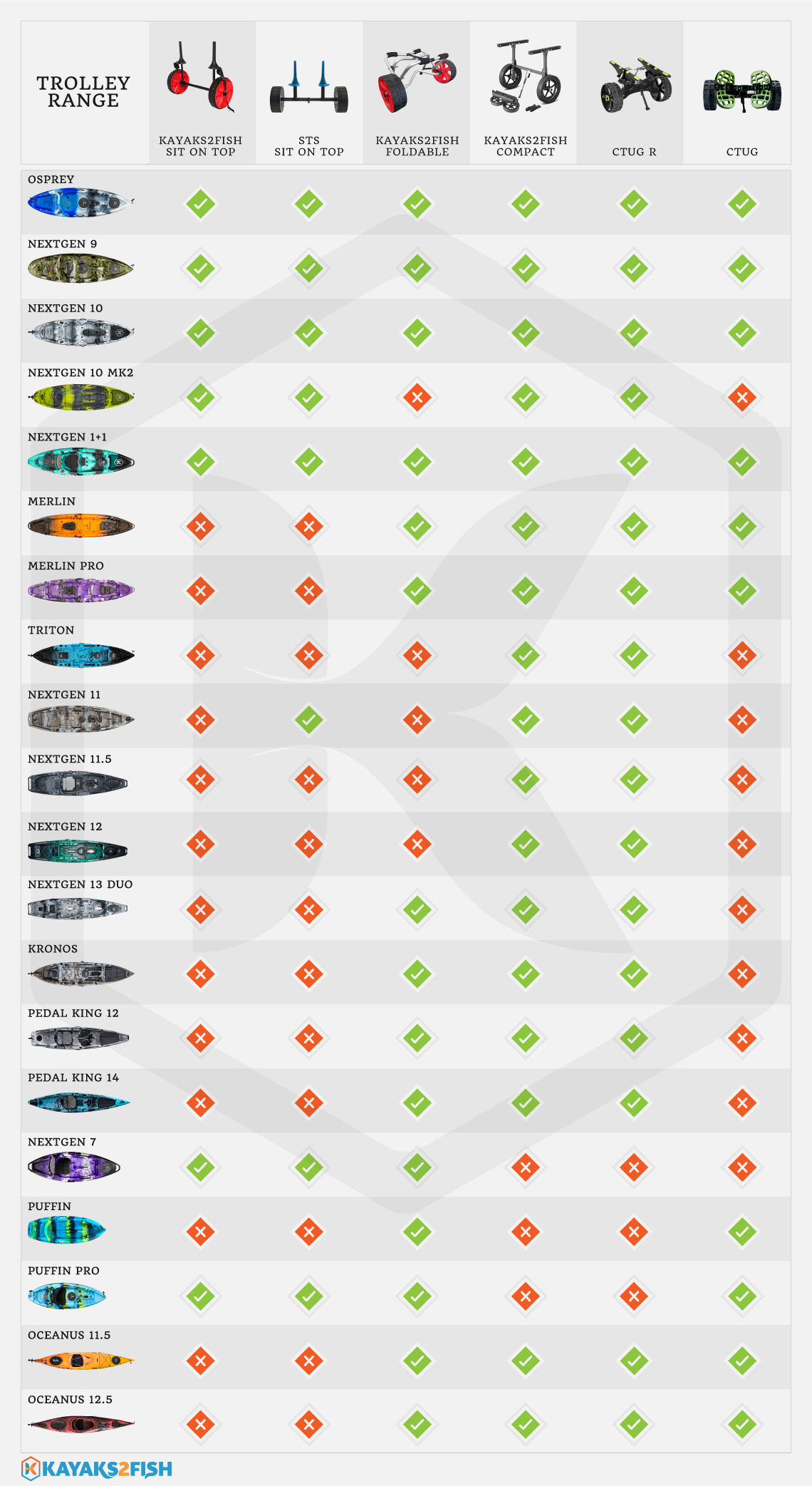 New Yak Blaze 50N Life Vest Blue Junior [Delivered]
If you're simply looking to get out paddling and have a great time on the water, the Blaze has it all in one neat package.
Front zipped for ease of entry and with adjustable shoulders plus a high cut design for all-round movement, it's a cleanly efficient, elegant solution.
4D Cast technology hugs the body while a breathable spacer mesh fabric provides maximum comfort and circulation. Super safe, super comfy, and super cool.

Key Features:
Superlight foam with slimline, high mobility cut for comfort
Adjustable shoulders
Single waist belt for a close fit
Front zip for easy donning
Internal key pocket
Expert Design
So paddling is your thing and you want to make sure you're set up with the best kit to suit exactly what you do on the water. Well with Yak, you've found a great partner: paddling is our thing too. And we're experts at discretely combining safety with practicality and style.
All Yak buoyancy aids are specifically designed for paddling - without compromise. Our design team has studied all the movements you do, the shapes and sizes you are and the features you want and need.
We've combined all that with top-end design, materials and manufacturing techniques and distilled it down to a comprehensive range of buoyancy aids, all shaped to fit and offering total freedom of paddling movement.
Our continuous product research and development also ensures that every single Yak product remains innovative and inspired, with function above and beyond our very own high standards.
Check out our range and you'll find it covers the entire scope of paddling activities, from recreational right through to touring and whitewater. Whatever your adventure, there is a Yak to fit.
Check the photos for Yak Blaze 50N Life Vest Size Chart.

Kayaks2Fish 3m Kayak Storage Cover - Camo [Delivered]
3M Kayak Storage Cover Camo - Kayaks2fish
The Kayak Storage Cover is just what the doctor ordered, to keep your kayak clean as well to keep the spiders out. Made of UV resistant 600 denier camouflage painted waterproof Oxford cloth with PVC coating.
This cover offers long-term protection from the elements. So whether you are preparing your Double or large Single kayak for transport for your next big trip or just storing it until the mood strikes again, you will want to make sure you have this Kayak Storage Cover.
Key Features:
600 denier camouflage painted waterproof Oxford cloth with PVC coating
UV Resistant to protect from harsh Sun
3M Kayaks Cover is suitable for Kayaks up to 2.7m to 3.0m Length (Osprey, NextGen 9, NextGen 10 Kayaks and Falcons)
4M Kayaks Cover is suitable for Kayaks up to 4.0m Length (Eagle Double, Orca 12, Orca Triton, Orca Kronos Kayaks)
For both indoor and outdoor use
Easy to use
Package includes:
1 x Kayak Cover
Please note: Trolley is not included
(K2F-COVER-CAMO-3M-V)
Orca Outdoors 5L Lightweight Sling Dry Bag with Window [Delivered]
Lightweight Sling Dry Bag with Window - Orca Outdoors
A dry bag is an awesome piece of adventuring equipment that's really helpful in a ton of travel scenarios but often overlooked.
Keeping all of your gear organized and protected is a concern whether adventuring in the Antarctic or out hiking in a balmy afternoon. Waterproof dry bag just specifically to help you achieve this. Our dry sack is really a reliable gear and necessity when you are kayaking, Protect your valuables from the water.Just put your gear in bag, grab top woven tape and roll down tightly 3 to 5 times and then plug buckle to complete seal, whole process is very quick
Package Includes: