K2F 50lb Motor Essential Bundle
Items
$99

$99

$599

$599

K2F Durable Nylon Block Board Fishing Kayak Trolling Motor Mounting DIY Accessories [Delivered]

$30

$30

FPV-Power PWM 50A with Variable Speed Controller V2 [Delivered]

$170

$170
Description
K2F Kayak Trolling Motor Mounting Bar for Kayak [Delivered]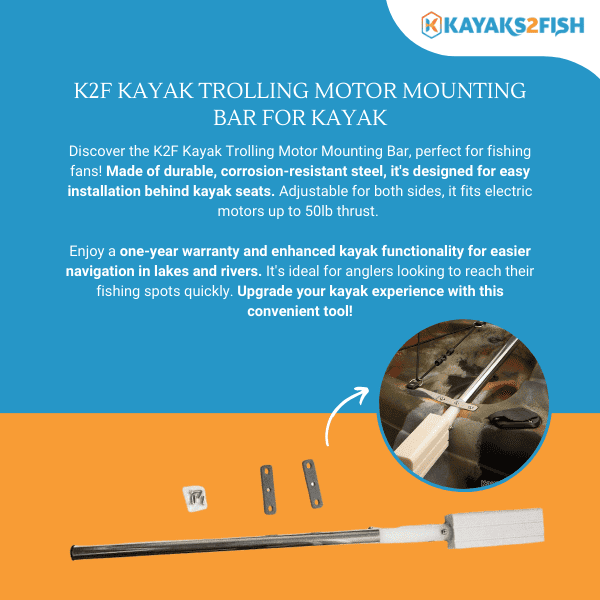 K2F Kayak Trolling Motor Mounting Bar for Kayak
Introducing the K2F Kayak Trolling Motor Mounting Bar for Canoes, a must-have accessory for all fishing enthusiasts! This newly designed motor mount bar is made from strong, corrosion-resistant solid steel, ensuring durability and longevity. With its adjustable head, you can easily tilt your motor in shallow water without hassle.
This mounting bar is specifically designed to be installed behind the seat of our fishing kayaks or canoes. It offers versatility as it can be mounted on either the left or right-hand side, according to your preference. The package includes all securing bolts and plates needed for easy installation.
This bracket is compatible with electric trolling motors with up to 50lb thrust power rating, making it perfect for use with motors like Pro Lithium NextGen 9 or Kronos models. Please note that using a more powerful engine may cause critical failure of both the mounting bracket and the motor, resulting in subsequent damage or loss. However, rest assured that we offer a one-year warranty so you can enjoy worry-free adventures on saltwater!
The product enhances your kayak's functionality by providing convenience during those long hours spent on open waters. Say goodbye to manual paddling and hello to effortless navigation! Whether exploring calm lakes or venturing into rivers with mild currents, this mounting bar will make maneuverability easier while allowing compatibility with rudders if desired.
Ideal for avid anglers who want an extra edge when reaching their favourite spots quickly and efficiently – imagine effortlessly gliding through serene waters while focusing solely on reeling in big catches! Don't miss out; get yours today.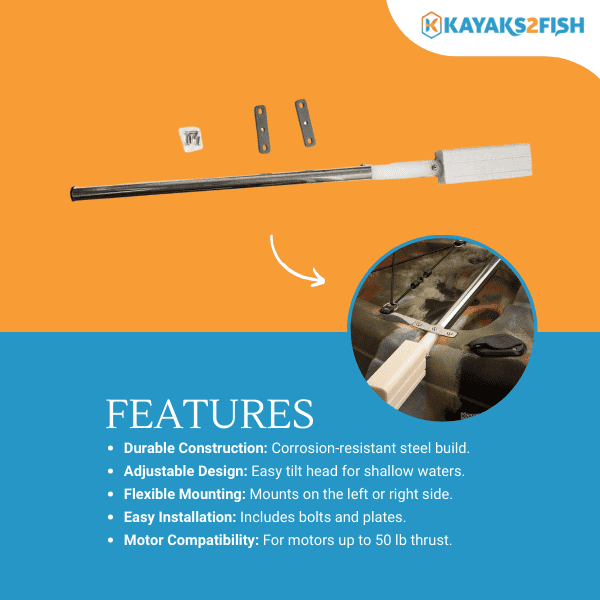 Features:
Durable Construction: Built with corrosion-resistant steel to withstand harsh marine environments.
Adjustable Design: Features an adjustable head for easy motor tilting, enhancing navigation in shallow waters.
Flexible Mounting Options: Can be mounted on either the left or right-hand side for personalised setup.
Easy Installation: Comes with all necessary securing bolts and plates for a hassle-free setup.
Compatibility with Electric Motors: Designed to work seamlessly with electric trolling motors up to 50 lb thrust, providing reliable support.
Specifications:
Brand: Kayaks2Fish
SKU: K2F-FOLDED-MOTOR-BAR-V
MPN: K2F-FOLDED-MOTOR-BAR-V
UPC: 680220212126
Material: Corrosion-resistant steel
Length: 86 cm
Weight: 2 kg
Compatibility: Electric Trolling Motors up to 50lb thrust
Installation: Behind kayak seat, left or right-hand side
Warranty: 1 year
Package Includes:
1 x Trolling Motor Mount Bar
All securing bolts and plates
Warning & Disclaimer:
Warning: Only compatible with Electric Trolling Motors up to 50 lb thrust. Using a motor with greater power may cause failure and damage.
Disclaimer: Not suitable for NextGen 11.5 kayaks. Ensure compatibility before installation.
Precaution: Regularly check all bolts and plates for tightness to ensure safety and stability.
Additional Note: The mounting bar should be installed by an adult. Follow the installation guide carefully.
Risk: Incorrect installation may lead to equipment loss or malfunction. Ensure proper fitting.
Maintenance: Regularly inspect for signs of wear and tear, especially when used in saltwater environments.
Note: This mounting bar is not suitable for NextGen 11.5 kayaks
Black Bear Battery 50AH Battery with 10A Charger [Delivered]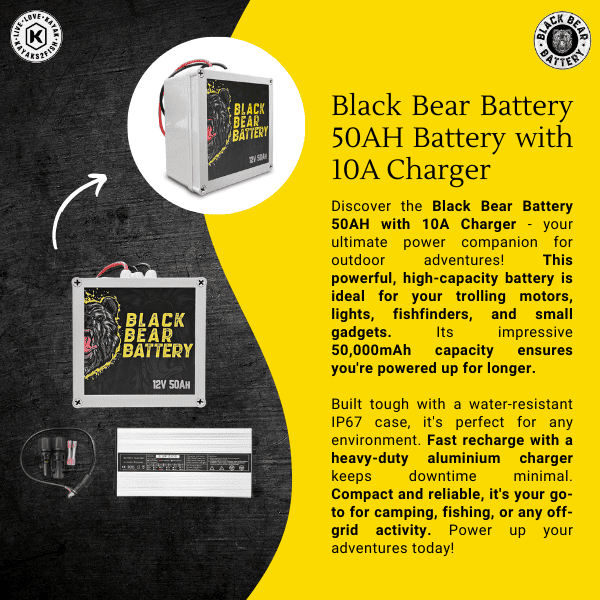 Black Bear Battery 50AH Battery with 10A Charger
Introducing the Black Bear Battery 50AH Battery with 10A Charger - a reliable and robust solution for all your portable power needs. This high-capacity battery is perfect for trolling motors, LEDs, fishfinders, and small electronic devices. With its impressive capacity of 50,000 and maximum amp draw of 60A, you can enjoy extended run times without worrying about running out of power!
Crafted to meet the highest standards in performance and durability, it features a rugged IP67-rated case that ensures protection against water immersion up to one metre deep. The built-in battery management system safeguards against overcharging or discharging while maximising efficiency.
The included heavy-duty aluminium charger provides fast recharges with fuse protection for added safety. With a charging capacity of 10A and an average recharge time of just five hours from empty to full charge, you'll spend less time waiting around and more time enjoying your favourite activities.
Whether on a fishing trip or camping adventure where access to electricity is limited or non-existent, this versatile battery will keep your essential electronics powered throughout the day. And its compact dimensions make it easy to transport wherever you go.
So why wait? Don't let low batteries limit your outdoor experiences. Order yours today!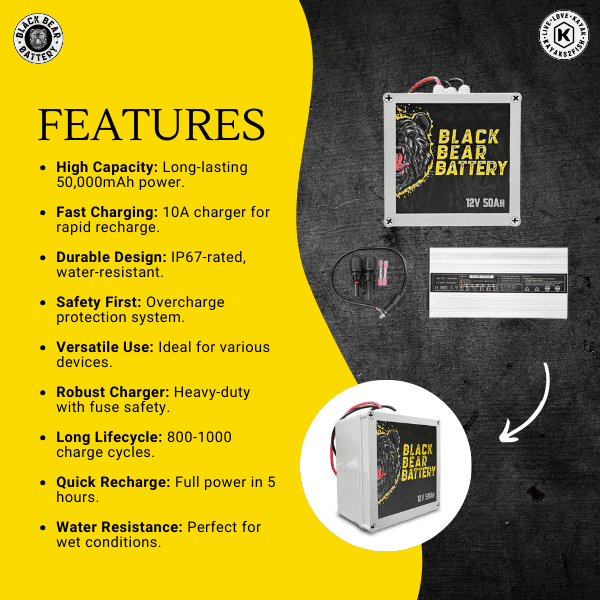 Features:
High Capacity: 50,000mAh ensures long-lasting power for your devices, perfect for extended use.
Fast Charging: Comes with a 10A charger for quick recharge, getting you back in action in no time.
Durable Design: The rugged IP67-rated case protects against water, making it ideal for outdoor adventures.
Safe and Reliable: The built-in battery management system prevents overcharging, ensuring safety and efficiency.
Versatile Use: Great for powering trolling motors, LEDs, fishfinders, and other small electronic devices.
Robust Charger: Heavy-duty aluminium charger with fuse protection adds an extra layer of safety.
Extended Lifecycle: Capable of 800-1000 charge cycles, providing reliable power for a longer time.
Quick Recharge: Battery recharges fully in just 5 hours, minimising downtime.
Water Resistance: The IP67 rating means it's resilient in wet conditions, suitable for fishing and boating trips.
Specifications:
Brand: Black Bear Battery
SKU: BBB-50AH-10A-V
MPN: BBB-50AH-10A
UPC: 680220223306
Length: 17 cm
Width: 10 cm
Height: 17 cm
Weight: 3.6 kg
Warranty: 2 Years
Suitable For: Trolling Motors, LEDs, Fishfinders, Small Electronic Devices
Capacity: 50,000 mAh
Run Time (20A Discharge): 2.5 Hours
Max Amp Draw: 60A
Max Cycles: 800-1000
Charger: Aluminum (Heavy Duty)
Charger with Fuse Protection: Yes
Charger Capacity: 10A
Battery Full Recharge Time: 5 Hours
Case: IP67
Battery Management System: Yes
Package Includes:
1 x Black Bear Battery 50AH
1 x 10A Heavy Duty Aluminum Charger
Warning & Disclaimer:
Do not expose to extreme temperatures or water beyond IP67 rating. Improper use may result in injury or damage.
The manufacturer is not responsible for damages resulting from improper installation, usage, or maintenance.
Only use the provided charger to avoid damage. Ensure connections are secure before use.
Keep out of reach of children. If damaged, stop using immediately and consult a professional.
Battery should be stored in a cool, dry place when not in use to prolong life.
K2F Durable Nylon Block Board Fishing Kayak Trolling Motor Mounting DIY Accessories [Delivered]
Durable Nylon Block Board Fishing Kayak Trolling Motor Mounting DIY Accessories - kayaks2Fish
Durable Nylon Block Board Fishing Kayak Trolling Motor Mounting DIY extends all the best ingredients.
Features of the Block Board:
Reinforced nylon motor block board for kayak trolling motor assembling
Dimension size: 185x75x30mm/ 7.3x2.95x1.2 inches; weight: 334g
Suitable for kayak, fishing boat, canoe DIY
Compact, lightweight and durable
A necessary Accessories for boat/ kayak motor mounting
FPV-Power PWM 50A with Variable Speed Controller V2 [Delivered]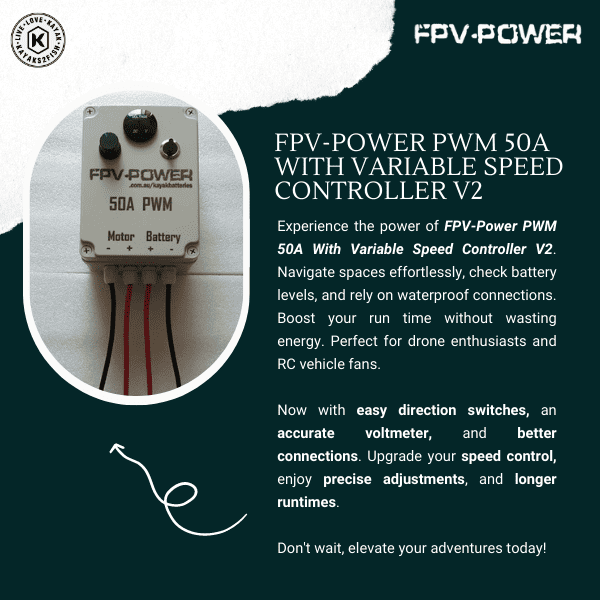 FPV-Power PWM 50A with Variable Speed Controller V2
Introducing the FPV-Power PWM 50A with Variable Speed Controller V2 - your ultimate solution for precise speed control and increased runtime in various applications! This upgraded version of the popular PWM comes packed with features that make it easier than ever to navigate tight spaces, monitor battery levels, and enjoy waterproof connections. With its magnetic kill switch and throttle control dial, this product offers unparalleled convenience.
One key advantage offered by the controller is its ability to increase runtime while maintaining efficiency. Unlike standard motor throttles that pass power through resistors, this pulse width modulation (PWM) controller delivers just enough power needed for desired speeds without wasting excess energy. At full throttle running with or without PWM, there's no difference in efficiency; however, as you lower the throttle setting using the proportional throttle control on a dial, you'll notice significant improvements in increasing overall runtime.
This versatile product caters perfectly to hobbyists who require efficient speed regulation such as drone enthusiasts building their own aerial photography/videography systems or remote-controlled vehicles like RC boats and kayaks seeking longer runtimes during operation!
So why wait? Upgrade your speed control system today by investing in the FPV-Power PWM 50A with Variable Speed Controller V2! With its forward and reverse switch for easy maneuverability even when trolling, voltmeter so you can keep an eye on your battery levels accurately, and waterproof connections instead of anderson plugs - this product offers convenience like no other. Order now!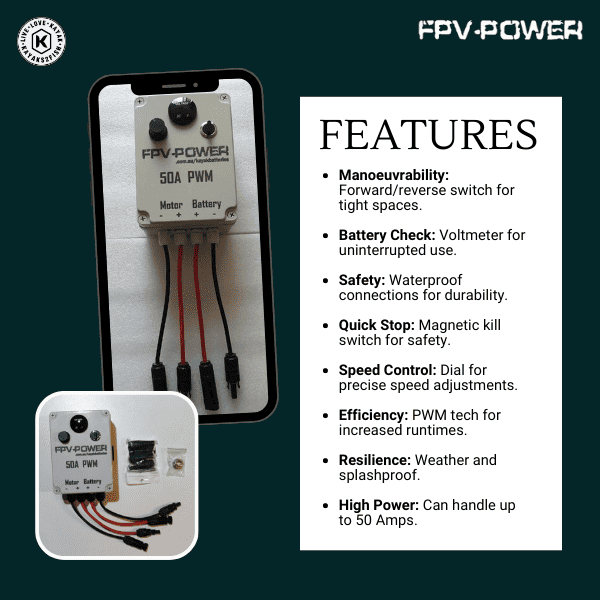 Features:
Forward/Reverse Switch: An innovative feature that makes manoeuvring in tight spaces significantly easier.
Voltmeter: Always stay aware of your battery levels, ensuring uninterrupted use.
Waterproof Connections: Unlike Anderson plugs, these connections offer superior safety and durability.
Magnetic Kill Switch: This standard feature offers immediate power cutoff, providing an added layer of safety.
Throttle Control Dial: Gain precise control over your speed - a real advantage when trolling lures.
PWM Technology: Pulse Width Modulation allows for increased runtimes by delivering the exact power needed - a clear advantage over standard throttles that pass power through resistors, leading to energy waste.
Weather and Splash Proof: This product is resilient against weather and splashes. Just remember not to submerge it!
High Amp Capacity: Can handle a maximum of 50 Amps, making it a powerful accessory for your needs.
Specifications:
Brand: FPV-Power
SKU: FPV-50A-PWM-V2-V
MPN: 10334
UPC: 5707823482925
Weight: 965 gm
Length: 175 mm
Width: 125 mm
Height: 75 mm
Max Amp Capacity: 50 Amps
Package Includes:
1 x FPV-Power 50A PWM V2
1 x Built-in Voltmeter
4 x Waterproof Connections
1 x Magnetic Kill Switch
Warning & Disclaimer:
The PWM box is weather and splash proof only. It should not be submerged in water under any circumstances.
While the product has waterproof connections, always make sure connections are properly secured before operation to prevent any damage or potential safety hazards.
The full efficiency benefits of PWM are more evident at lower throttle levels. At full throttle, the difference in efficiency with or without PWM is negligible.