Watersnake ASP T24 Kayak Motor
Precision Steering with Stow-Away Tiller
RRP $230
WAS $216
NOW $189
SAVE 18% ($41)
Notify me when back in stock
Select pickup location to proceed
You must select a pickup location before you can add this item to your cart.

Description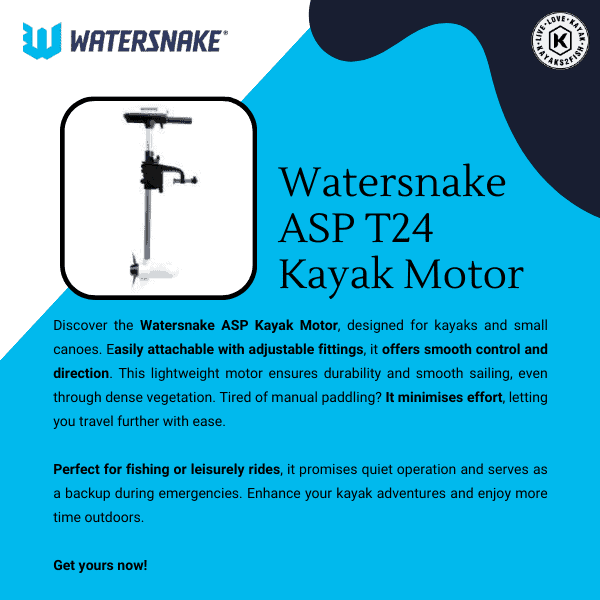 Watersnake ASP T24 Kayak Motor
Introducing the Watersnake ASP Kayak Motor, a compact and powerful motor for kayaks and small canoes. With its adjustable transom-mount fitting, this motor is easy to attach and provides excellent manoeuvrability on the water. Whether fishing or simply exploring, it offers high and low-speed control and forward and reverse options, giving you complete control over your kayak's movement!
This lightweight motor is incredibly portable without compromising on performance. The alloy shaft ensures durability, while the weedless two-blade propeller allows smooth navigation through dense vegetation. Made from stainless steel, the propeller shaft guarantees long-lasting use in saltwater and freshwater environments.
It takes away much of the physical effort required when navigating waters using traditional methods. With its efficient design, you can cover more distance effortlessly, enjoy longer outings, and focus solely on enjoying your time outdoors rather than tiring yourself out before reaching your destination.
Whether cruising along calm lakes or fishing rivers venturing into coastal areas, this versatile kayak motor will enhance your overall experience. It's quiet operation won't disturb fish nearby, making it perfect for stealthy angling adventures. It can also serve as backup propulsion if you need assistance returning to shore during unexpected weather changes or emergencies.
Get the Watersnake ASP Kayak Motor now and enjoy effortless navigation, extended trips on the water, and a more enjoyable time outdoors today!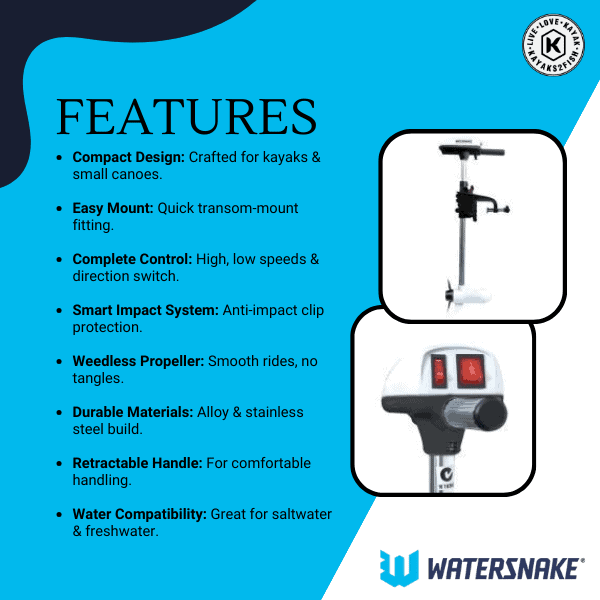 Features:
Compact Design: Specially crafted for kayaks and small canoes for easy navigation.
Easy Mount: Adjustable transom-mount fitting for quick and simple attachment.
Complete Control: Choose from high and low speeds with a forward and reverse switch.
Smart Impact System: Comes with an anti-impact clip in the mount to protect the motor.
Weedless Propeller: Two-blade design ensures no entanglements, providing smooth rides.
Durable Materials: Alloy shaft and stainless steel propeller shaft for long-lasting use.
Retractable Handle: Handy design for comfort and easy handling.
Water Compatibility: Perfect for both saltwater and freshwater adventures.
Specifications:
Brand: Watersnake
SKU: WS-ASP-T24-V
MPN: 55199
UPC: 9312327816976
Thrust: 24 lb (about 10.8kg)
Volts: 12v
Current: 9-20 amps
Shaft Length: 61 cm
Speed Settings: Hi-Low
Steering: Stow-away Hand Tiller
Material: Alloy (Shaft), Stainless steel (Propeller Shaft)
Package Includes:
1 x Watersnake ASP T24 Kayak Motor
Warning & Disclaimer:
Always operate the motor at safe speeds to avoid accidents or injuries.
Ensure it is properly mounted and secure before operation.
Avoid using the motor near swimmers or in crowded areas.
Do not operate the product if it shows signs of damage or malfunction.
Watersnake is not responsible for any damage or injury caused by misuse or mishandling of the product.
Regularly inspect the motor and propeller for signs of wear or damage.
Ensure the battery is fully charged and securely connected before use.
Always adhere to local boating and safety regulations when using the motor.
Specifications
Brand: Watersnake
SKU: WS-ASP-T24-V
MPN: 55199
UPC: 9312327816976
Thrust: 24 lb (about 10.8kg)
Volts: 12v
Current: 9-20 amps
Shaft Length: 61 cm
Speed Settings: Hi-Low
Steering: Stow-away Hand Tiller
Material: Alloy (Shaft), Stainless steel (Propeller Shaft)
FAQ
Which motor should I get for my kayak?
When choosing a motor there are a few things you need to think about:
Budget - Budget is the biggest factor when choosing a motor as you need to think about the battery and mounting kit as well.
Battery charge - The bigger motors require more charge and therefore need a larger battery.
Size of your kayak - The smaller the kayak the less poundage you will need in your motor.
Please check the below chart for the motor recommendations per kayak.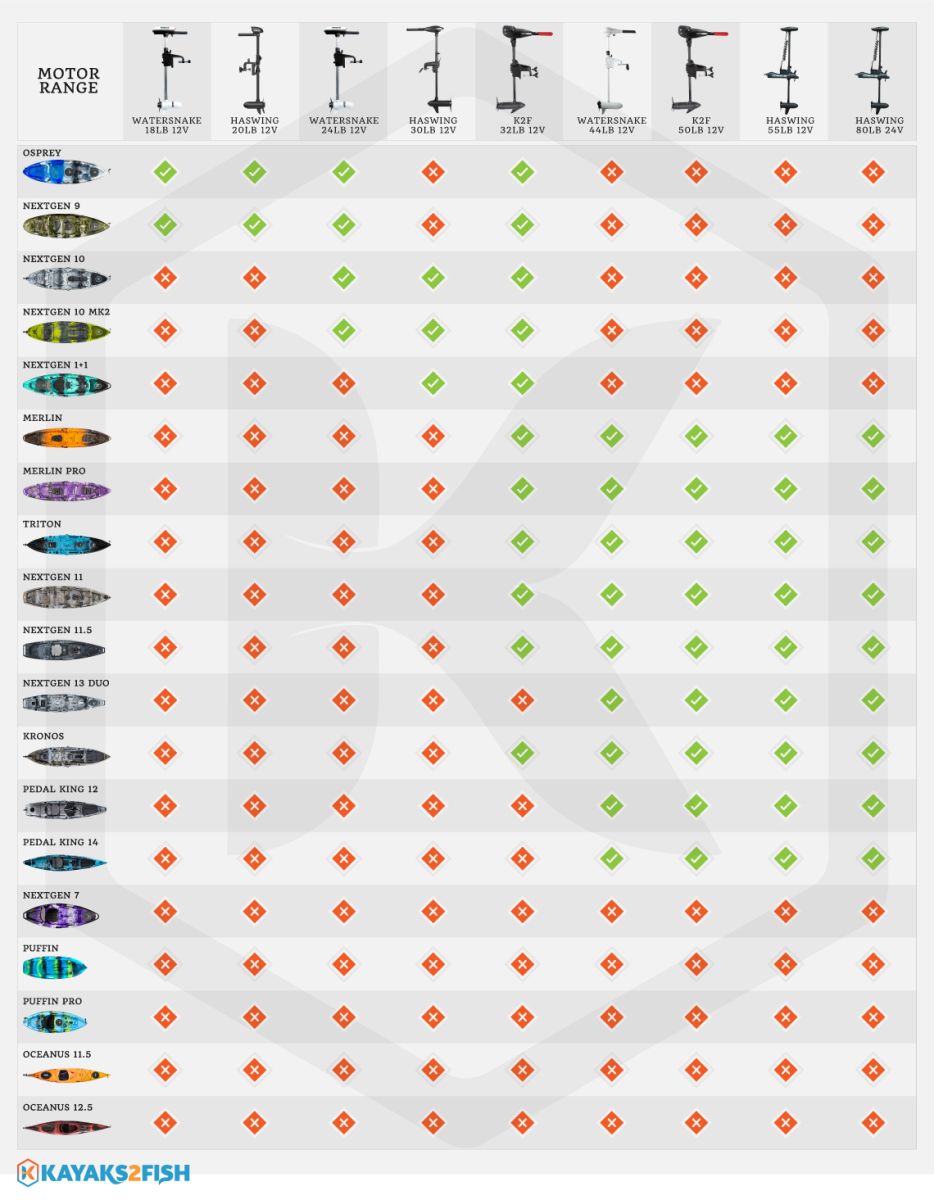 Which battery do you recommend?
Which battery we would recommend would depend on the size of your motor. As the motor gets bigger you will need a bigger battery. Please check the chart below for average run times for the batteries.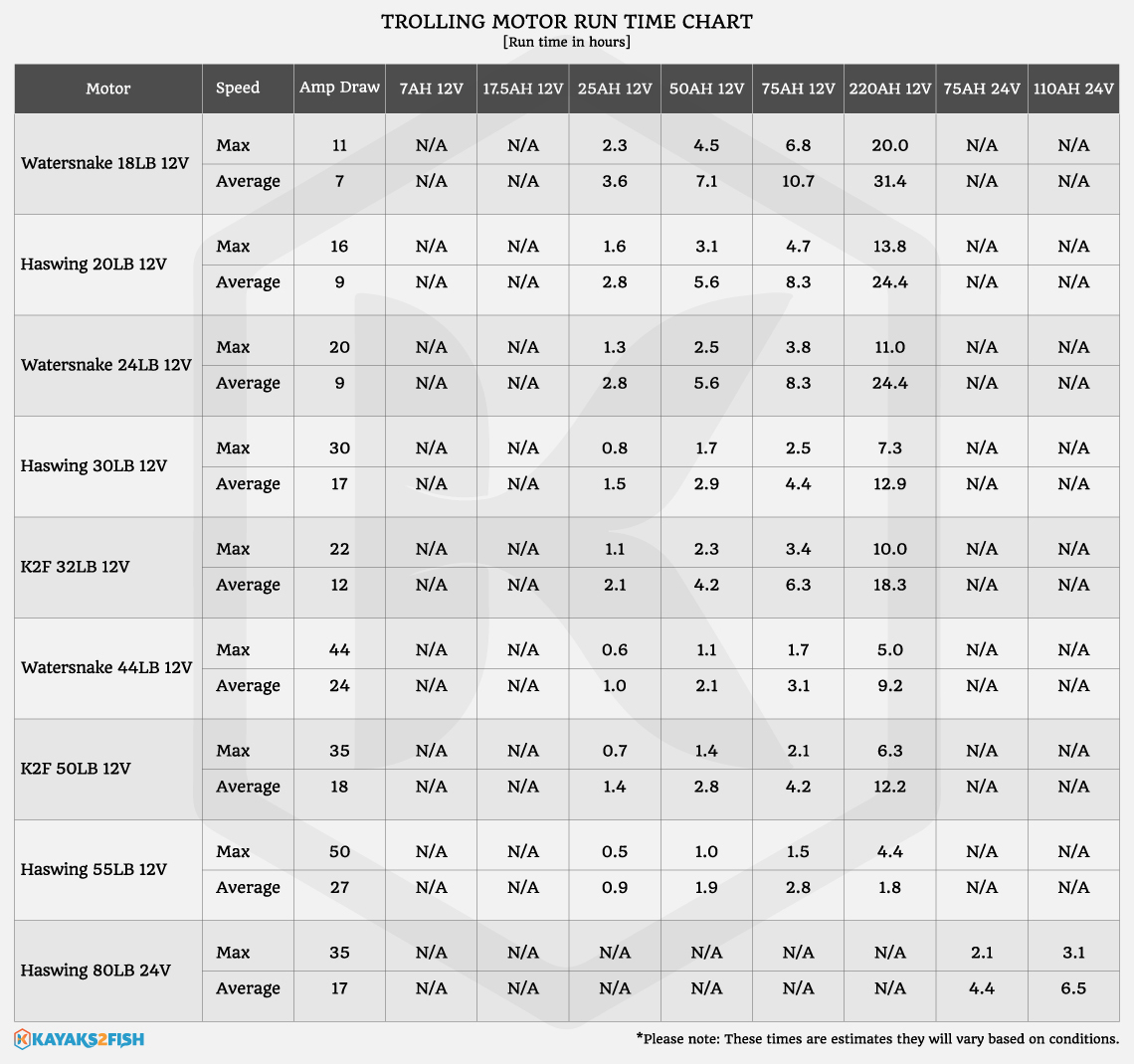 Do I need a license?
Please check local laws for up to date advice for running a motor on a kayak.
VIC: https://transportsafety.vic.gov.au/maritime-safety/newsroom/exemption-for-low-powered-kayaks-and-canoes-now-permanent
NSW: https://www.rms.nsw.gov.au/maritime/safety-rules/index.html
QLD: https://www.msq.qld.gov.au/Registration
NT: https://nt.gov.au/marine/marine-safety/safety-guides-and-equipment/safety-guide-recreational-boating
WA: https://www.transport.wa.gov.au/imarine/paddle-craft.asp
TAS: https://mast.tas.gov.au/safe-boating/paddle-craft-paddle-safe/
SA: https://www.sa.gov.au/topics/boating-and-marine/boat-and-marine-safety/boating-safely/kayaking-and-canoeing

Do I need to do any maintenance on my motor?
Yes, regular maintenance is required to keep the motor running well.
At the end of the day, wipe the motor down with a damp cloth .
Never leave the motor submerged in salt water when the boat is moored. Always check the propeller is clear of line or weed. Clean behind the propeller after every use. Check for fishing lines, weeds, or other debris. Any debris wrapped around the prop will cause a loss in power.
Regularly check all nuts, bolts, and screws and physically check all hardware is tightened securely.
Lubricate all moving parts.
Clean terminal connections regularly and check for frayed wires, loose or corroded connections. Clean terminals with a wire brush and replace any frayed wires.
Lack of maintenance may cause excessive heat and loss of power.
Be sure to choose a well ventilated and dry location when storing the motor for long periods.
Never leave the motor outside, as this may cause damage to the magnet of the driving unit.
Please ensure that the motor is thoroughly washed even a small amount of salt left will rust the motor over time and is not covered under warranty.
We recommend using a product such as salt attack to ensure that no rust forms.

Salt attack can be found here: https://k2f.com.au/s/ckP
What is the OWE pressure?
The OWE pressure is the current battery charge level.

Which motor mount should I use?
For our Kayaks2Fish kayaks we have a range of motor mounting accessories.
Found here: https://k2f.com.au/s/ckQ

Can I use a motor with a set of outriggers?
You are able to mount a motor onto a set of outriggers using a motor mounting block.
The motor mounting block is installed by bolting a nylon block directly onto the outrigger bars giving a transom mount motor somewhere to grab onto.
They can be found here: https://k2f.com.au/s/ckV

How fast do they go?
Typically a trolling motor will get you around 4-5 km/h.
This of course will depend on the poundage of motor and water conditions.

How do I mount a trolling motor onto a motor bar?
We have a great video on how to install the motor bar here: https://k2f.com.au/s/ckS

Can the motor go forward and backwards?
Yes, our trolling motors have both forward and reverse gears.

Can the battery be charged by a solar panel?
It does depend on the battery but with a special charge controller it can be charged with a solar panel.

Can I mount the motor where the pedals go?
For the NextGen 11 and 11.5 We have designed a motor mount to fit in and replace the pedals.
It can be found here: https://k2f.com.au/s/ckT

Can I mount two motors, one on each side of the kayak?
While it is possible to run two motors at once we do not recommend this as it is no more efficient and a DIY bracket would need to be made.

Can the hand controller be extended?
In the Haswing and K2F models the tiller can be extended.

Can I power the motor and fish finder from the same battery?
You can power a motor and a fish finder from the same battery; you will just need to install a regulator between the battery and fish finder.