NextGen 205 Piece Tackle box
Organised & Ready for Every Trip
RRP $40
WAS $33
NOW $20
SAVE 50% ($20)
Notify me when back in stock
Select pickup location to proceed
You must select a pickup location before you can add this item to your cart.

Description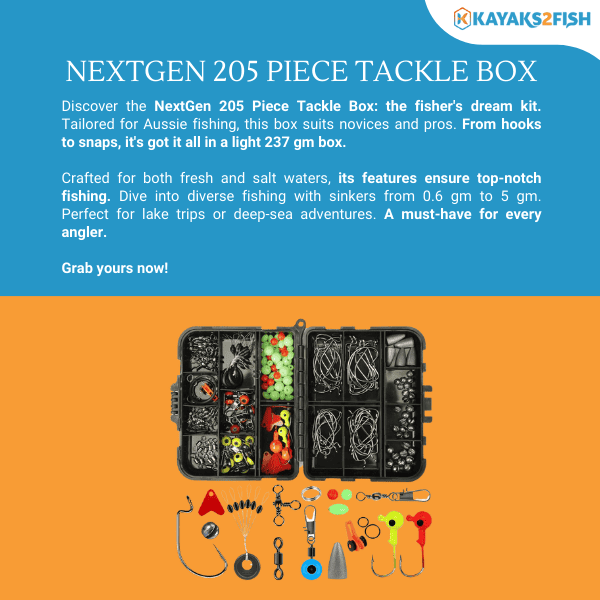 NextGen 205 Piece Tackle Box
Introducing the NextGen 205 Piece Tackle Box, your ultimate fishing companion! Packed with everything you need to create a killer fishing setup, this tackle box is perfect for beginners and experienced anglers. Designed specifically for Australian conditions, it's time to prepare for anything Aussie fishing can throw at you.
This compact yet comprehensive tackle set includes an impressive range of accessories. We've covered them all, from hooks and swivels to sinkers and snaps. This lightweight black box fits easily into any backpack or gear bag with a total weight of just 237 gm.
The tackle box boasts high-quality materials, ensuring durability in freshwater and saltwater environments. The split rings provide secure attachment points, while the bait hanger keeps your bait securely in place during casting. Additionally, the lead sinker assortment offers weights ranging from 0.6 gm up to 5 gm – giving you versatility when adjusting depth levels based on water currents or target species preferences.
Whether planning a weekend getaway by the lake or embarking on an adventurous deep-sea expedition, this versatile tackle box has your back! It caters perfectly to recreational fishermen and professionals looking to top up their collection with reliable essentials. Get yours today!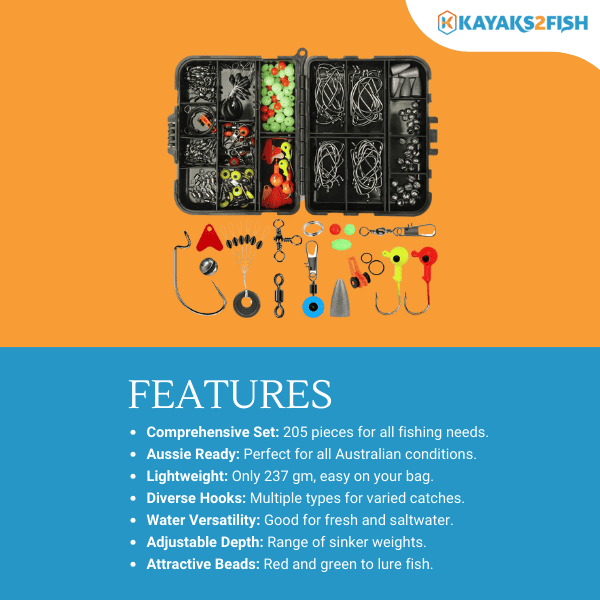 Features:
Comprehensive Set: Contains 205 pieces, perfect for varied fishing needs.
Aussie Ready: Designed for all Australian fishing conditions and types.
Lightweight: Weighing just 237 gm, it won't weigh your bag down.
Diverse Hooks: Comes with multiple types and sizes for different catches.
Fresh and Saltwater Use: Suitable for both types of water, increasing its versatility.
Multiple Sinkers: Offers a range of weights for adjusting depth as needed.
Colourful Beads: Red and green beads for attracting more fish.
Specifications:
Brand: NextGen
SKU: K2F-FA-COMBO-205-V
MPN: WH-S099-KC205
Colour: Black
Length: 122 mm
Width: 105 mm
Height: 34 mm
Weight: 237 gm
Package Includes:
10 x Split Ring 5mm
1 x Bait Hanger, Orange
10 x Swivel
5 x Fishing Stopper
10 x Red Bead 5*5mm
10 x Green bead 5*5mm
30 x Green bead 5*8mm
10 x Crank Hook #2
10 x Crank Hook #2/0
5 x Lead sinker 5g
10 x Lead sinker 0.6g
10 x Lead sinker 1g
10 x Lead sinker 1.5g
10 x Crank hook #1/0
10 x Crank Hook #1
2 x Jig Hook 3.5g
2 x Jig Hook 7g
10 x Red plastic blade 16x16
10 x #L Red
10 x #M Yellow
10 x Black Nickel Swivel 2#
10 x Swivel + Snap 5mm
Warning & Disclaimer:
Choking Hazard: Contains small parts. Not suitable for children under 12.
Sharp Objects: Some components, like hooks, are sharp. Handle with care to avoid injury.
Environmental Concern: If a piece gets detached while fishing, retrieve it to prevent environmental harm.
Fishing Regulations: Always check and follow local fishing regulations when using this tackle box.
Disclaimer: The manufacturer is not responsible for any injuries or damages resulting from misuse or from not following safety guidelines.
Specifications
Brand: NextGen
SKU: K2F-FA-COMBO-205-V
MPN: WH-S099-KC205
Colour: Black
Length: 122 mm
Width: 105 mm
Height: 34 mm
Weight: 237 gm
FAQ
How does the tackle box cater to Australian fishing conditions?
It's designed specifically for all types of fishing across Australia.
Can beginners benefit from using it?
Yes, both beginners and experienced anglers find it beneficial.
What makes the tackle box stand out in terms of variety?
It comes with a comprehensive set of 205 pieces.
How many types of hooks does it include?
They include multiple types and sizes to cater to different fishing needs.
Does the tackle box suit both freshwater and saltwater fishing?
Yes, it's suitable for both freshwater and saltwater environments.
Are there any specific components to adjust the depth when fishing?
Yes, it comes with various lead sinkers for depth adjustments.
Is the tackle box durable?
Yes, it's made with high-quality materials ensuring long-lasting use.