Notify me when back in stock
Select pickup location to proceed
You must select a pickup location before you can add this item to your cart.
Gannet 10 Pedal Kayak
Gannet 10 is super sleek and stable foot propelled kayak. Comes with removalable pedal drive unit that can go forward and backward. Available now for pre order in 3 colours: Ocean, Smoke & Jungle.
Package Include:
1 x Kayak
1 x Kayak Seat
1 x Pedal Drive
Standard Features:
● Siding Rails
● Big rubber Stopper
● Drain plug
● Eyes button
● Carry handle
● Rod holders
● Bungee cord
● Rudder system
● Pedal system
● Cover for pedal
● Adjusted aluminium frame backseat
Specification:
Lengh: 320cm
Width: 83.5cm
Depth: 43.5cm
Weight: 28kg
Paddlers: 1 Adult
Capacity: 140kg
Hull Material: High Density Polyethylene

(K2FS-GANNET-OCEAN)
| | |
| --- | --- |
| Brand | Kayaks2Fish |
| Model | Gannet10 |
| Colour | Ocean |
| Material | LLDPE |
| Weight Capacity | 140kg |
| Weight | 28kg |
| Length | 320cm |
| Width | 83.5cm |
| Height | 43.5cm |
| Warranty | 1 Year |
| SKU | K2FS-GANNET-OCEAN |
Recent Feedback
m****3 03/03/2018 Fast & Fantastic. Excellent value and quality. k******2 28/02/2018 Excellent product highly recommended item as described p********e 23/02/2018 Product is perfect thank you. The transaction was professional, great experience 3*******k 22/02/2018 Thank you, it was accurate c********a 21/02/2018 Completely satisfied k********8 20/02/2018 Wonderful, thanks! c********e 19/02/2018 Perfect 10/10. No issues :) Thanks d*****7 15/02/2018 Perfect 10/10. No issues :) Thanks d*****7 15/02/2018 Item as per described, good saller ***** 14/02/2018
Other Products You May Like
Other Products You May Like
Customer Feedback
Customer Feedback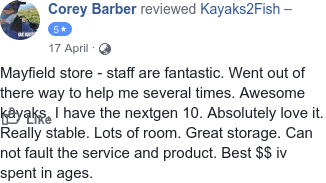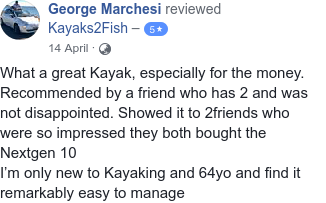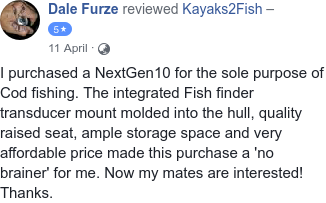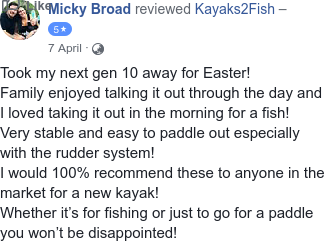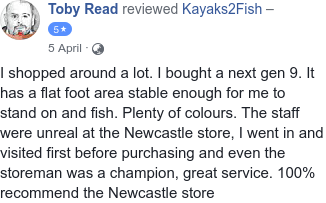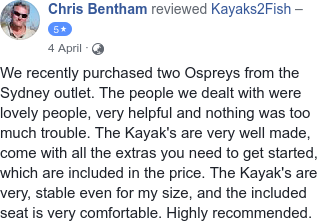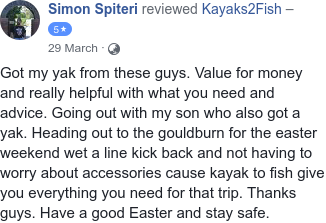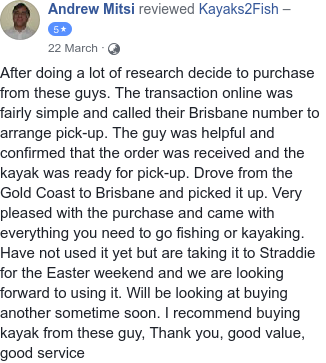 Customer Feedback